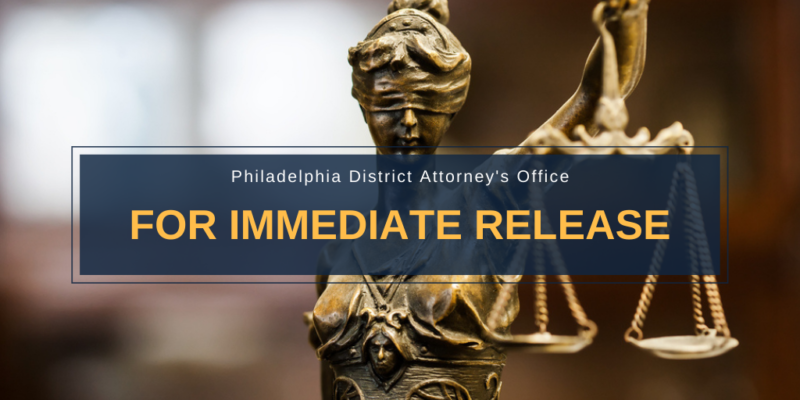 PHILADELPHIA (October 20, 2023) – The District Attorney's Homicide/Non-Fatal Shootings Unit will be prosecuting three individuals from New Jersey for their alleged roles in the murder of Philadelphia Police Officer Richard Mendez and attempted murder of Officer Raul Ortiz at the Philadelphia International Airport on October 12, 2023.
The DA's Office has charged Alexander Batista-Polanco (DOB: 9/27/2002) and Yobranny Martinez-Fernandez (DOB: 1/12/2005) of Camden, N.J., with Murder, Murder of a Law Enforcement Officer, Criminal Attempt to Commit Murder of a Law Enforcement Officer, Criminal Conspiracy, Aggravated Assault, Aggravated Assault on a Law Enforcement Officer, Simple Assault (2 counts), Criminal Use of Communication Facility, Robbery, Theft by Unlawful Taking, Receiving Stolen Property, Obstruction, VUFA (No License), VUFA (Public Carrying), Recklessly Endangering Another Person (2 counts), Tampering with Evidence, and Possession of Instrument of Crime.
The DA's Office will be charging a third alleged co-conspirator, Hendrick Peña-Fernandez (DOB: 9/10/2002) of Pennsauken, N.J., with the same offenses after he is formally arrested in Philadelphia County, as expected by the end of Friday.
Defendant Batista-Polanco also has an open Burglary case in Scranton, Pa. As with all defendants charged with Murder in Philadelphia County, the three individuals will be held without bail.
District Attorney Larry Krasner said, "I am grateful for the collaborative partnership among law enforcement here in Pennsylvania, New Jersey, and at the federal level in securing the apprehension of these individuals for their alleged roles in the murder of Philadelphia Police Officer Mendez and the shooting of Officer Ortiz. Among the significant — and avoidable challenges — we encountered in this investigation was a lack of surveillance or other video that captured this violent incident in an international airport parking garage. We await more information from ballistics and forensics experts, which will hopefully shed far more light on events leading up to the murder and assault of two of our officers."
DA Krasner added, "I continue to urge our leaders in government at every level to provide modern investigative and technological tools to law enforcement, which they need and deserve in a nation flooded with guns but empty of sensible restrictions and regulations on the firearms industry. Installation of surveillance video technology in parking spaces at the airport is a safety and prevention measure that ought to be prioritized with urgency. Residents, visitors, and law enforcement officers who work in or pass through the airport deserve nothing less."
CONTACT:
Jane Roh, 215-686-8711, [email protected]
###
The Philadelphia District Attorney's Office is the largest prosecutor's office in Pennsylvania, and one of the largest in the nation. It serves the more than 1.5 million residents of the City and County of Philadelphia, employing 600 lawyers, detectives, and support staff. The District Attorney's Office is responsible for the prosecution of approximately 40,000 criminal cases annually. Learn more about the DAO by visiting PhillyDA.org.