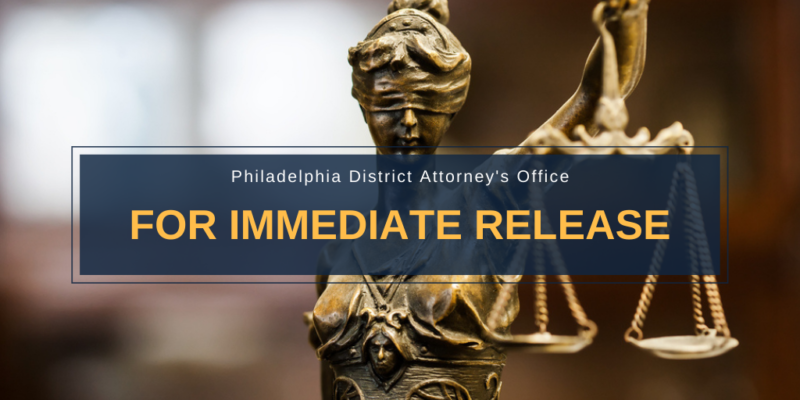 PHILADELPHIA (October 19, 2023) — Members of the Philadelphia District Attorney's Office Gun Violence Task Force announced on Thursday that two suspects were arrested and charged for their roles in a carjacking and burglary of a West Philadelphia pharmacy during last month's widespread civil unrest.
Saimir Brown (DOB 8/26/02) is charged with multiple counts of Aggravated Assault (F2), Conspiracy (F1), Burglary (F1), Receiving Stolen Property (M1), and additional related charges.
Nassir Boyd (DOB 4/8/01) is charged with Burglary (F1), Criminal Trespass (F2), Conspiracy (F1), Theft by Unlawful Taking (M1), Receiving Stolen Property (M1), and additional related charges.
On September 24, 2023—three days before the civil unrest that occurred after a Philadelphia judge dismissed Officer Mark Dial's homicide case—Brown and three other suspects carjacked two complainants in their rented Dodge Durango at gunpoint. After the complainants were prostrate on the ground, one of the suspects repeatedly kicked a complainant in the ribs.
On September 27, during the unrest, Brown and his co-conspirators drove the stolen Dodge vehicle to the Olive Tree Pharmacy located on the 200 block of S. 60th Street in West Philadelphia. Brown directed others to watch for police while he and another individual used a crowbar to enter the pharmacy. Boyd, Brown's co-defendant, was also present at the scene and knocked out surveillance cameras before the group stole thousands of oxycodone and Percocet pills. The group then fled the scene.
Approximately two weeks later, Brown was arrested by agents with the Pennsylvania Office of the Attorney General's Bureau of Narcotics Investigation and Drug Control after he was observed conducting narcotics transactions as part of a law enforcement investigation. A search of his residence and vehicle produced crack cocaine, oxycodone, and other opiates, a sizable quantity of marijuana, and packaging material. A prohibited firearm and related parts were also discovered.
Law enforcement has linked Brown and Boyd to a known violent street group operating in the 18th Police District south of Market Street. Both Brown and Boyd were on probation for previous firearm-related convictions at the time of their arrests. Due to the danger these two defendants pose to the community, the DAO requested and received over $1 million in bail. Brown and Boyd are currently in custody.
"I'm grateful to the excellent investigative work conducted by agents with the Pa. Office of the Attorney General and the Philadelphia Police Department," said Assistant District Attorney Jeffrey Palmer, Assistant Supervisor of the DAO's Gun Violence Task Force. "These arrests should send a signal to those opportunistic few who chose to damage their communities and who pose a threat to public safety: We know who you are and you will be held accountable for your actions."
###
The Philadelphia District Attorney's Office is the largest prosecutor's office in Pennsylvania, and one of the largest in the nation. It serves the more than 1.5 million residents of the City and County of Philadelphia, employing 600 lawyers, detectives, and support staff. The District Attorney's Office is responsible for the prosecution of approximately 40,000 criminal cases annually. Learn more about the DAO by visiting PhillyDA.org.