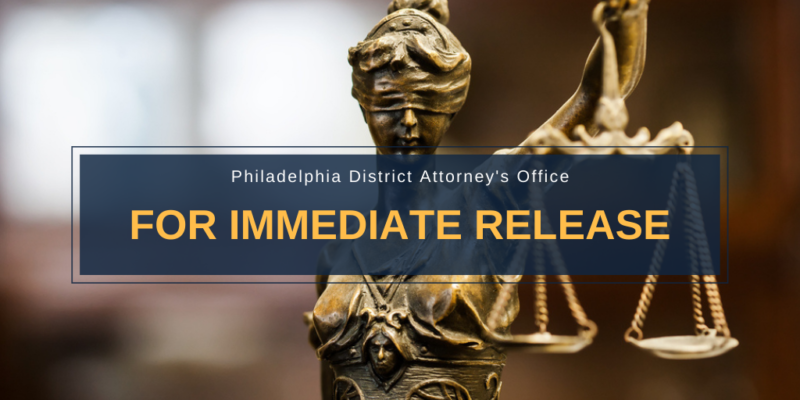 PHILADELPHIA (October 23, 2023) – The District Attorney's Special Investigations Unit on Monday announced that it had secured the convictions of a former Philadelphia Police officer and a former Catholic priest in separate prosecutions alleging child sexual abuse and assault.
On Friday, October 20, 2023, former Philadelphia Police Officer Patrick Heron (DOB: 10/12/1969) pleaded guilty to 2 counts of Unlawful Contact with a Minor, 2 counts of Sexual Abuse of Children, Involuntary Deviate Sexual Intercourse, Official Oppression, Kidnapping of a Minor, Indecent Assault, Forgery, and Stalking for five criminal cases brought against him by the SIU. The Commonwealth had been prepared to go to trial on allegations that over the course of more than a decade, Heron abused and assaulted dozens of women and girls, took photographs and video of victims being assaulted without their consent, and attempted to intimidate and silence witnesses in order to shield his crimes from law enforcement.
During the course of its investigation, the SIU and District Attorney's county detectives (DA's Detectives) seized a mass of digital images and video from accounts linked to Heron, many of which depicted Heron engaging in abusive and assaultive conduct with women and girls in the backseat of his patrol vehicle — while he was in uniform, armed with a service weapon, and on duty. One video, which was shown to the Court of Common Pleas at a procedural hearing last month, depicted Heron encouraging a woman as she was using intravenous drugs in the back of his patrol vehicle, before sexually assaulting her.
If convicted of the 218 criminal charges filed by the Commonwealth at trial, Heron faced more than 1,300 years in prison, SIU prosecutors told the court at a pre-trial hearing on Friday. Heron instead entered into a guilty plea on charges representing each of the joined criminal cases against him and was sentenced by the Hon. Giovanni Campbell to 15 to 40 years of incarceration.
Special Investigations Unit Supervisor Lyandra Retacco said, "While the Commonwealth was fully prepared to take Patrick Heron to trial for what we know to be his yearslong predation of vulnerable women and girls while he wore a badge, we are comfortable with this conviction which avoids a jury trial and the inevitable retraumatization of victims and witnesses. The survivors who were prepared to testify against Patrick Heron have expressed to us their relief that he is being held accountable and can no longer hurt another girl or woman. I want to say to them and to all of the survivors of Patrick Heron's depraved crimes that this District Attorney's Office is here to support survivors. We understand that this conviction is no substitute for the services and healing that you are desperately owed."
District Attorney Larry Krasner said:
"The predatory sexual assaults committed by former Police Officer Patrick Heron – and his criminal efforts to cover up his many crimes – are an egregious abuse of his position of trust. The survivors – including Jane Does not yet identified – deserve to know how this officer's crimes went unreported and unchecked within law enforcement for so long. And they deserve all of our support in addressing the trauma they have suffered.
"The systemic failures within law enforcement that enabled then-Officer Heron to assault and abuse vulnerable women and girls – including child runaways and people living with addiction – for a decade or more must be remedied.
"I want to thank the survivors and witnesses who bravely worked with investigators and testified about the trauma they endured. I also thank our Special Investigations Unit – led by ADA Lyandra Retacco – along with DA's Detective Sergeant Gerald Rocks, Jr., who relentlessly pursued even-handed justice against a fellow officer. They built our case against Patrick Heron by earning the trust of witnesses and survivors and by refusing to look away from these vile criminal acts."
ADA Joshua Barnett and paralegal Cheryl DiSalvo also supported the SIU investigation and prosecution of Heron.
In a separate criminal matter, on Monday, October 23, 2023, the survivor of sexual abuse by then-Catholic priest Armand Garcia (DOB: 4/14/1969) delivered a victim impact statement to the Court of Common Pleas. Garcia pleaded guilty to Corruption of Minors and Unlawful Contact with Minor and will be sentenced in January 2024.
The complaining witness, who was 13 years old when she first met Garcia at the Immaculate Heart of Mary Parish elementary school in the Andorra section of the city, told the court of the PTSD and trauma she endures daily due to Garcia's abuse and manipulations. The survivor also told the court of her family's generational ties to the parish and Catholic Church – which they have severed because "no one thought to intervene" in Garcia's improper, criminal conduct. Garcia's prosecution was led by SIU ADA Clarke Beljean.
DA Krasner said:
"I want to thank the survivor of then-clergy Armand Garcia's foul crimes for persevering despite many procedural and pandemic-related delays since she first contacted authorities in 2017 to report Garcia's crimes against her that began when she was a child. Armand Garcia will never again be allowed to abuse his position of trust as clergy and will never again be allowed to use the church to access vulnerable victims.
"Prior administrations in the District Attorney's Office failed to hold accountable far too many clergy who committed and covered up sex assault crimes by their clergy peers. This disgusting history can never be fully repaired, but we can do better, as in the prosecution of Armand Garcia, among others."
In addition to contacting the DA's Special Investigations Unit directly, survivors of sexual abuse and rape seeking counseling and services are encouraged to contact WOAR Philadelphia's 24/7 hotline at 215-985-3333.
"These cases are unfortunate reminders that sexual violence happens in all environments, in all communities, and in all walks of life, which includes sectors that are responsible for maintaining the public trust. We are well aware that power and influence, when misused and corrupted, can perpetuate silencing, oppression, and violence, situations where it is critically important to ensure that the voices of survivors are heard. It is why organizations like WOAR and its partners work tirelessly to make outreach to and educate all our fellow Philadelphians about sexual violence — including the risk factors, signs of suffering that are often shrouded in silence or shame, and importantly how we can help those in crisis and better protect ourselves and our communities through action," said LaQuisha Anthony, Program Lead/Advocacy Coordinator, WOAR – Philadelphia Center Against Sexual Violence. "WOAR's services are offered to anyone who needs them, 24/7, 365 days per year, free of charge, and our services are entirely confidential to ensure all have a safe place to turn to for help and healing. Our hotline is there any time of any day: 215-985-3333. So that together we can prevent situations like this from ever happening in the future."
CONTACT:
Jane Roh, 215-686-8711, [email protected]
###
The Philadelphia District Attorney's Office is the largest prosecutor's office in Pennsylvania, and one of the largest in the nation. It serves the more than 1.5 million residents of the City and County of Philadelphia, employing 600 lawyers, detectives, and support staff. The District Attorney's Office is responsible for the prosecution of approximately 40,000 criminal cases annually. Learn more about the DAO by visiting PhillyDA.org.