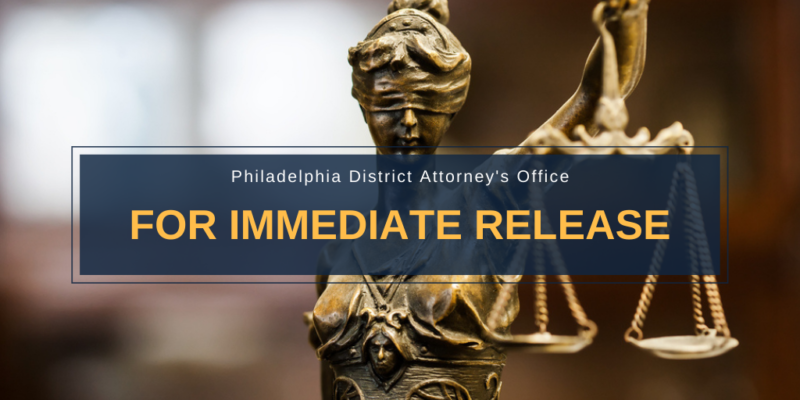 PHILADELPHIA (June 27, 2023) – Following additional investigation by the District Attorney's Special Investigations Unit and DA detectives, former Philadelphia Police officer Patrick Heron is facing 19 new criminal cases, for a total of 21 cases involving alleged sexual abuse and assault of young girls and women, and threats made against witnesses.
Special Investigations Unit (SIU) Supervisor Lyandra Retacco and ADA Joshua Barnett on Tuesday announced that Heron (DOB: 10/12/1969) had been re-arrested on 233 new counts including Kidnapping, Involuntary Deviate Sexual Intercourse, Unlawful Contact with a Minor, Sexual Assault, Child Sexual Abuse, Indecent Assault, and Institutional Sexual Assault.
A former patrol officer, Heron retired from the Philadelphia Police Department in 2019. The criminal cases charged on Tuesday involve incidents that occurred prior to 2019, and in certain instances, while Heron was in uniform and on duty. The cases previously charged against Heron in April 2022 and September 2022 involve incidents that occurred after his retirement from the PPD.
"The 19 new cases and 233 charges we have filed against former Philadelphia Police officer Patrick Heron today allege shocking criminal conduct against young girls and extremely vulnerable women, at times while the defendant was on duty," ADA Retacco said. "The implications of what appear to be serial misconduct are nearly too horrifying to contemplate. I want these survivors – and all survivors of sexual abuse and assault – to know that the District Attorney's Office is here to help deliver justice and accountability for what was done to them. We are here to help ensure that survivors do more than just survive – but that they find healing and opportunities to thrive as well."
Victims, witnesses, and members of the public with truthful information about former officer Patrick Heron that could lead to additional arrests or charges are urged to contact the DAO Special Investigations Unit at [email protected] or 215–686–9608.
"This case is a very unfortunate reminder that sexual violence happens in all environments, in all communities, and in all walks of life. It is why organizations like WOAR and its partners work tirelessly to make outreach to and educate all our fellow Philadelphians about sexual violence — including the risk factors, signs of suffering that are often shrouded in silence or shame, and importantly how we can help those in crisis and better protect ourselves and our communities through action," said Michael F. Kellerman, interim executive director of WOAR – Philadelphia Center Against Sexual Violence. "It is also a reminder of why WOAR's services are offered to anyone who needs them, 24/7, 365 days per year, free of charge, and our services are entirely confidential to ensure all have a safe place to turn to for help and healing. Our hotline is there any time of any day: 215-985-3333. So that together we can prevent terrible news like this from ever happening in the future."
As in all criminal matters, this defendant is innocent unless or until proven guilty in a court of law. Following his arraignment on the new charges, Heron will again be detained pre-trial without bail eligibility.
CONTACT:
Jane Roh, 215-686-8711, [email protected]
###
The Philadelphia District Attorney's Office is the largest prosecutor's office in Pennsylvania, and one of the largest in the nation. It serves the more than 1.5 million residents of the City and County of Philadelphia, employing 600 lawyers, detectives, and support staff. The District Attorney's Office is responsible for the prosecution of approximately 40,000 criminal cases annually. Learn more about the DAO by visiting PhillyDA.org.