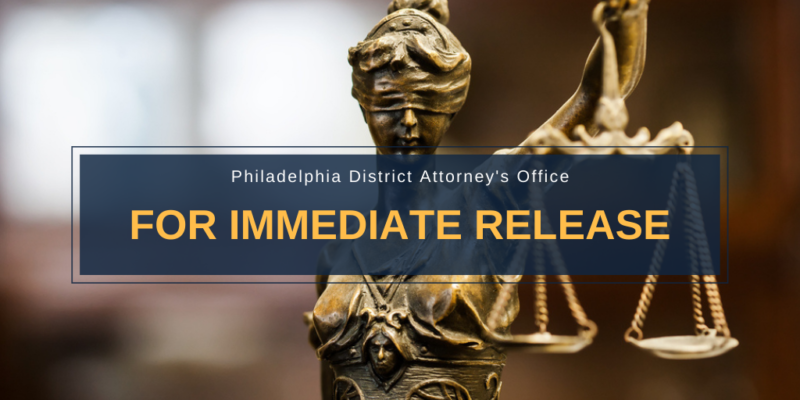 PHILADELPHIA (July 3, 2023) — District Attorney Larry Krasner, the Philadelphia Police Department, and the Philadelphia Sheriff's Office convened at the Fathership Foundation today to urge members of the public to celebrate the Fourth of July holiday safely and responsibly by not discharging firearms into the air on Tuesday. In addition to providing a weekly gun crimes update, DA Krasner warned those who may be contemplating engaging in celebratory gunfire that they will be arrested and prosecuted for doing so. He also highlighted four recent arrests and prosecutions of individuals accused of firing weapons into the air. They are as follows:
Kalief Kimble-Kinebrew (DOB 10/03/1994) was arrested on March 2, 2022, after exiting his house and immediately discharging his firearm eight times into the air while shouting "Good morning." Kimble-Kinebrew pleaded guilty to Recklessly Endangering Another Person (REAP) and was sentenced on October 12, 2022.
Anthony Buffalo (DOB 6/26/1970) was arrested on May 29, 2023, and charged with Possession of an Instrument of Crime (PIC), REAP, Simple Assault, and Terroristic Threats. These charges stem from the defendant threatening to shoot a neighbor over a dispute over fireworks and discharging a firearm into the air. Buffalo is scheduled to stand trial this month.
Naayfir Gorham (DOB 3/9/1994) was arrested on June 10, 2023, for discharging a firearm from inside a vehicle and was subsequently charged with PIC, REAP, Violation of the Uniform Firearm Act 6106 (VUFA 6106), and VUFA 6108. A preliminary hearing for Gorham is scheduled for this month.
Fernando Rivera (DOB 5/29/1990) was arrested on June 30, 2023, after video captured the defendant firing multiple shots into the air. Rivera was then charged with PIC, REAP, and VUFA 6105, VUFA 6106, and VUFA 6108. A preliminary hearing for Rivera is scheduled for this month.
"It's very important for Philly to celebrate and honor its place in this country's history. But sadly, our city has a history of irresponsible use of firearms during this time too," said DA Krasner. "I strongly urge everyone to celebrate safely and responsibly in order to avoid needless tragedy. And to those who are planning to fire a gun into the air tomorrow, just know that law enforcement stands ready to hold you appropriately accountable for endangering your family, friends, and neighbors."Philadelphia Police Department First Deputy Commissioner John Stanford. "However, the reckless act of shooting firearms poses a severe threat to public safety and it undermines the spirit of this cherished holiday. As we celebrate, it is imperative that we prioritize the safety and well-being of residents and visitors to this city, and we are fully committed to doing just that."

"The Fourth of July is a time for unity, patriotism, and coming together as a nation," said

CONTACT:Dustin Slaughter, 215-686-8713, [email protected]

###

The Philadelphia District Attorney's Office is the largest prosecutor's office in Pennsylvania, and one of the largest in the nation. It serves the more than 1.5 million residents of the City and County of Philadelphia, employing 600 lawyers, detectives, and support staff. The District Attorney's Office is responsible for the prosecution of approximately 40,000 criminal cases annually. Learn more about the DAO by visiting PhillyDA.org.