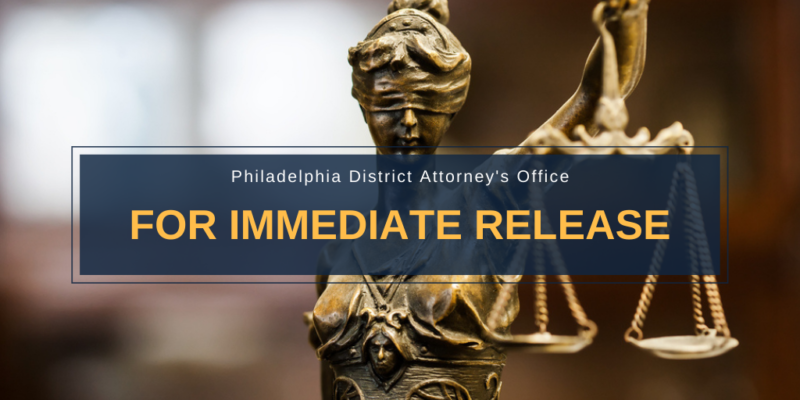 PHILADELPHIA (September 8, 2023) – District Attorney Larry Krasner on Friday announced the arrest of Philadelphia Police Officer Mark Dial for his role in the fatal shooting of Eddie Irizarry in August.
Shortly after noon on August 14, 2023, Dial and his partner followed Irizarry by vehicle in the Kensington neighborhood of Philadelphia, an encounter captured on video by body worn camera (BWC) assigned to both officers. Irizarry eventually pulled into a parking spot on the 100 block of East Willard Street, having turned onto the street at a slow rate of speed going in the wrong direction. The officers stopped their vehicle parallel to Irizarry's, exited, and approached.
The BWC footage — which is being released to the press and public unedited at the request of Irizarry's family — shows Officer Dial approaching the driver's side of Irizarry's vehicle, as Irizarry is seated. Both officers approached with their firearms out. At one point Irizarry is observed holding a small, open folding knife against his thigh. He then rolled up the driver's side window. Dial is shown discharging into the vehicle six times, shattering the driver's side glass and repeatedly striking Irizarry at close range.
After being pulled out of his vehicle and transported to Temple Hospital, Irizarry, 27, was pronounced deceased, with the medical examination finding cause of death as "Multiple Gunshot Wounds" and the manner of death listed as "Homicide."
Dial (DOB: 12/18/1995), formerly a Philadelphia Police officer for five years, has been charged by the District Attorney's Special Investigations Unit (SIU) with Murder, Voluntary Manslaughter, Aggravated Assault, Simple Assault, Recklessly Endangering Another Person, Official Oppression, and Possession of an Instrument of Crime. As with all criminal defendants, Mark Dial is presumed innocent until proven guilty in a court of law.
"The allegations brought against defendant Mark Dial today are among the most serious in our criminal legal system and are the culmination of weeks of investigative work by the PPD Officer Involved Shooting Investigation (OISI) team, PPD Internal Affairs, and the independent review of the dedicated public corruption prosecutors in the DA's Office," DA Krasner said. "As they do in all criminal proceedings, our Special Investigations Unit will continue to seek the truth of what happened on August 14th and what led to the killing of Mr. Irizarry, who was shot to death in his vehicle with the windows up. This Philadelphia District Attorney's Office stands for even-handed justice, regardless of pressure to favor members of any group."
Video from the body-worn camera assigned to defendant Mark Dial and his partner which captures the fatal shooting of Eddie Irizarry is available to members of the media upon email request.
CONTACT:
Jane Roh, 215-686-8711, [email protected]
###
The Philadelphia District Attorney's Office is the largest prosecutor's office in Pennsylvania, and one of the largest in the nation. It serves the more than 1.5 million residents of the City and County of Philadelphia, employing 600 lawyers, detectives, and support staff. The District Attorney's Office is responsible for the prosecution of approximately 40,000 criminal cases annually. Learn more about the DAO by visiting PhillyDA.org.