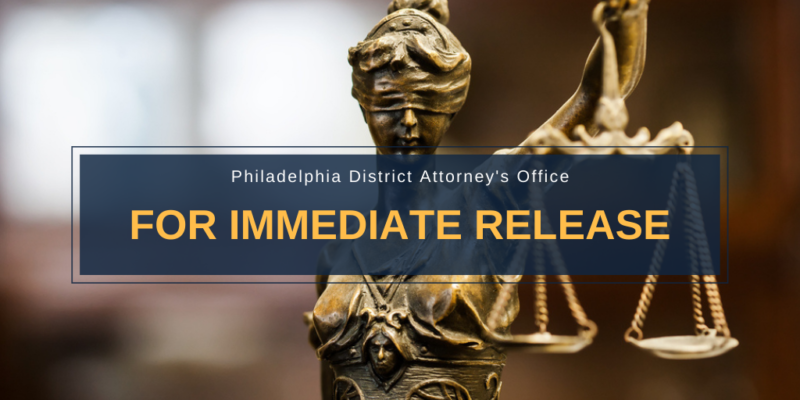 PHILADELPHIA (April 24, 2023) — As National Crime Victim's Rights Week commences, District Attorney Larry Krasner and members of the Philadelphia District Attorney's Office Homicide and Non-Fatal Shooting Unit announce that a Philadelphia jury has convicted Lamar Wilson (DOB 12/15/80) for shooting one individual outside of a Northeast Philadelphia nightclub in April 2019 and using his vehicle to run over the shooting victim's companion. The jury found Wilson guilty of Attempted Murder, Aggravated Assault, and VUFA 6105, 6106, and 6108. The incident stems from an altercation that started in the early morning hours of April 7, 2019, when the two victims allegedly bumped into the defendant while exiting Hush Nightclub, located on the 7200 block of Frankford Avenue. Wilson flew into a rage despite the victims apologizing to him. As the couple walked towards their car, the defendant retrieved a firearm from his vehicle and approached the male victim, firing numerous shots and wounding him 17 times. The defendant then fled in his car, striking the woman as he left the scene. She suffered serious injuries to her legs and face. Both victims were taken by first responders to Jefferson-Torresdale Hospital and were treated for their injuries.
The defendant fled the state and entered fugitive status for over a year. Investigators recovered the crime gun and utilized fired cartridge casings and DNA to link Wilson to the shooting. An warrant was issued for Wilson's arrest and he was subsequently arrested in February 2021. The victims bravely took the stand at trial to identify Wilson as the suspect and recount what had happened to him. The jury convicted him on April 13, 2023. He is scheduled for sentencing before the Hon. Anthony Kyriakakis next month. "I commend Assistant District Attorney Katherine Wood of the office's Homicide and Non-Fatal Shooting Unit for her dedication to this case and her exemplary work pursuing justice for survivors and the community," said DA Krasner. "I also thank the exceptional investigation conducted by the Philadelphia Police Department in this case, as well as all of the law enforcement members involved in bringing this defendant to justice."Rev. Myra Maxwell, Executive Director of the DAO's Victim Support Services Division, also announced today a series of events commemorating National Crime Victims' Rights Week (April 23 to April 29, 2023)."It is important to acknowledge not only on National Crime Victims' Rights Week, but every day, the devastating impact of victimization, and the crucial role that victim service providers play in supporting and advocating for those impacted by violence," said Rev. Maxwell. "Our collaborative work is more important than ever, as we have experienced increases in those needing supports and services. Today we remember those impacted by violent crime, as well as the faithful victim advocates who serve survivors and the community each and every day."
"Restorative justice is all about fairness," said Rev. Donna Jones, Executive Director of the Metropolitan Christain Council. "We commend the DA's Office for providing leaders like Jody Dodd, the DAO's Restorative Justice Facilitator, who is an important connection between the government and the community when it comes to our work of making survivors whole and helping communities heal from crime. It is incumbent upon our community-based restorative justice practitioners to work with all of the agencies and other victim support services, because it cannot be done in isolation." National Crime Victims' Rights Week events are as follows:
Central Division Victim Services Presents: Survivor Voices Join Kendall Stephens, Civil Rights & LGBTQ+ Activist, Latarsha Haughton, Transformational Life Coach, and B. McFly, Community Leader in authentic conversation that amplifies the voices of survivors in a safe space where survivors have the confidence that they will be heard, believed, and supported. April 24, 7PM EST 1538 Cecil B. Moore Ave, Philadelphia, PA 19121
***DAO Resource WalkMembers of the DAO's Victim Support Services Division will walk through Center City providing information on resources available to crime victims and witnesses. April 25, 1PM to 3PM. Walk starts at the DAO, 3 S. Penn Square
***
Central Division Victim Services Presents:Survivor-Themed Art Gallery Central Division Victim Services is hosting an art gallery to showcase art created by survivors and surviving family members of crime during National Crime Victims Rights Week. Admission is FREE. April 26, 2PM to 6PM 1538 Cecil B. Moore Ave, Philadelphia, PA 19121
***
Philadelphia Coalition for Victim Advocacy Presents:National Crime Victims' Rights Week Annual Candle Lighting Ceremony Gather together to honor victims and co-victims of crime and take a stand against crime in our communities. Resource tables will be available. Designated parking will be provided. April 27, 6PM to 7PM (Doors open at 5:30) Philadelphia City Hall Center Courtyard, East Entrance For more information, please contact: [email protected]
***
WOAR Philadelphia Center Against Sexual Violence Presents:Sexual Assault Awareness Month Hands Around City Hall Join the community for Hands Around City Hall, dedicated to supporting survivors/victims, centering on hope and healing. Listen to survivors speak, access support services, and enjoy live music, a drag queen show, yoga and meditation, face painting, and more. April 28, 2PM to 5PM Philadelphia City Hall Center Courtyard
CONTACT:Dustin Slaughter, 215-686-8713, [email protected]
###
The Philadelphia District Attorney's Office is the largest prosecutor's office in Pennsylvania, and one of the largest in the nation. It serves the more than 1.5 million residents of the City and County of Philadelphia, employing 600 lawyers, detectives, and support staff. The District Attorney's Office is responsible for the prosecution of approximately 40,000 criminal cases annually. Learn more about the DAO by visiting PhillyDA.org.