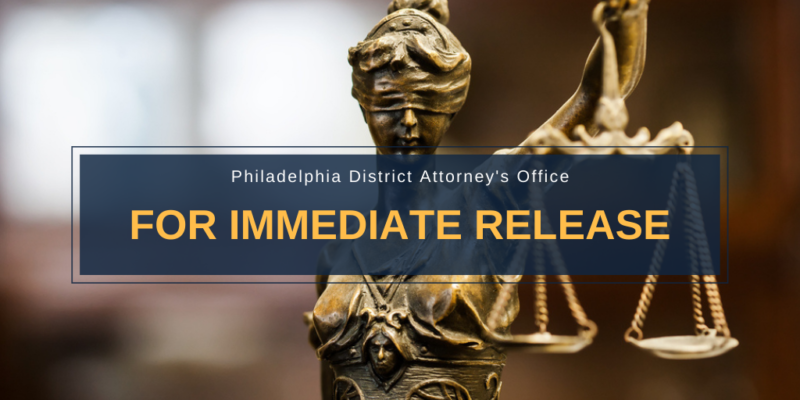 PHILADELPHIA (May 1, 2023) — District Attorney Larry Krasner and members of the Philadelphia District Attorney's Office Homicide and Non-Fatal Shooting Unit announced the conviction and sentencing of Tahmir Banks (DOB 4/8/1999) for fatally shooting 41-year-old Nicholas Troxell on SEPTA's Market-Frankford Line in March 2020. Banks plead guilty to Third Degree Murder (F1) and VUFA 6106 (F3). On the evening of March 30, 2020, Banks and three of his peers boarded a westbound elevated train in Kensington as Troxell slept in a nearby seat. SEPTA surveillance cameras show Banks taking a seat while the rest of the group surrounded Troxell. Two of the males slapped him across the face while the others laughed and cheered. A third male then slapped Troxell, prompting him to jump up and chase them away as the group fled to an adjacent train car. The group disembarked at the Allegheny stop shortly after, but Banks and his co-defendant returned. The two males stood on the platform as the elevated train waited with doors open for other passengers to embark. Surveillance cameras indicated no words were exchanged between Banks, his co-defendant, and Troxell. Banks then produced a firearm, aimed it at the unarmed Troxell, and fired one shot into Troxell's forehead. The two males subsequently fled the scene on foot as Troxell bled out on the floor of the train car. He died a short time later at Temple Hospital.

Investigators obtained one .380 fired cartridge casing from the scene in addition to the surveillance video of the crime. They proceeded to interrogate two individuals who know Banks but were not present at the time of the incident. These two individuals identified the defendant based on their review of the camera footage. Banks was arrested approximately two weeks later and provided a Mirandized statement to police in which he admitted to shooting Troxell with a .380 caliber handgun he was in illegal possession of at the time of the shooting.Assistant District Attorney Erica Rebstock for securing justice for Mr. Troxell and for sending a message that those less fortunate than others are not an afterthought to our office. We will continue to seek equal justice for all residents of Philadelphia, and hold those who commit heinous acts like this accountable to the fullest extent of the law." "I want to thank Philadelphia Police Department Homicide Detectives Levi Morton and Michael Livewell for their tireless investigation of this case," said ADA Erica Rebstock of the DAO's Homicide and Non-Fatal Shooting Unit. "Mr. Troxell was a beloved member of his family and was gunned down in cold blood. I'm pleased that law enforcement was able to achieve some justice for his family's tragic loss." The defendant was sentenced by the Hon. Barbara McDermott on April 21 to 21 to 42 years of state incarceration.

"This terrible crime is a stark reminder of how marginalized members of society can be treated as an afterthought by others," said DA Krasner. "I thank

###

The Philadelphia District Attorney's Office is the largest prosecutor's office in Pennsylvania, and one of the largest in the nation. It serves the more than 1.5 million residents of the City and County of Philadelphia, employing 600 lawyers, detectives, and support staff. The District Attorney's Office is responsible for the prosecution of approximately 40,000 criminal cases annually. Learn more about the DAO by visiting PhillyDA.org.