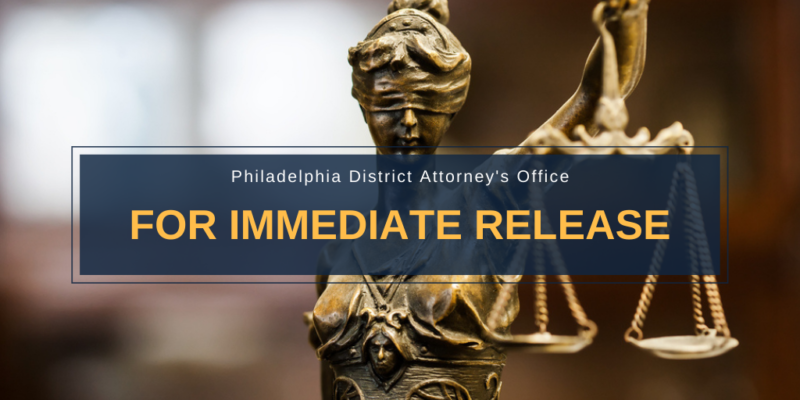 PHILADELPHIA (July 5, 2023) – The District Attorney's Office on Wednesday charged a 40-year-old male with five counts of Murder, five counts of Attempted Murder, and a host of related offenses for his alleged role in one of the worst mass shootings in Philadelphia's recorded history.

Kimbrady Carriker (DOB: 10/27/1982) is alleged to be responsible for several acts of gun violence at or near the 1600 block of South 56th Street in the Kingsessing neighborhood on the evening of July 3, 2023, during which five people were killed and five others survived near-deadly violence.

The five people murdered on Monday night were identified by Philadelphia Police as: Daujan Brown, 15; Lashyd Merritt, 20; Dymir Stanton, 29; Joseph Wamah, Jr., 31; and Ralph Moralis, 59.

Four of the five gun violence survivors were in a white Jeep Cherokee when Carriker allegedly fired upon them. A 2-year-old child sustained gunshot wounds; a 33-year-old woman and another 2-year-old child sustained injuries from shattered glass.

The 10 cases filed by the DA's Homicide & Non-Fatal Shootings Unit against Carriker include multiple counts of Aggravated Assault, Simple Assault, Recklessly Endangering Another Person, Carrying Firearms Without a License, Carrying Firearms in Public in the County of Philadelphia, and Possession of an Instrument of Crime.

Police recovered from the scene and the defendant's residence a long gun with no serial number, a black polymer 80 9mm handgun (or ghost gun), sixty-one (61) .223 fired cartridge casings, nine (9) 9MM fired cartridge casings, and two (2) projectiles.

Following his arraignment on Wednesday morning, Carriker was ordered held without bail on each Murder case and on $1.5 million bail on each Attempted Murder case.

The DA's Victim Support Services Division and CARES team (which provides support to survivors of homicide regardless of whether an arrest by law enforcement has been made), has made contact with the families of the murder victims and survivors.

District Attorney Larry Krasner said, "As the process of legal accountability begins for this defendant, we in law enforcement and government cannot ignore the glaringly obvious ways this tragic loss of life and deep community trauma could have been prevented. Instead of just asking ourselves, 'What if?' we ought to be pounding down the doors of state legislatures and Congress to demand universal background checks, federal regulation and control over the manufacture and distribution of firearms, extreme risk protection orders, and fully funded behavioral health care."

DA Krasner continued: "Lawmakers and policymakers in government at every level must stop depleting behavioral health systems in order to fill prisons, stop defunding violence prevention which includes public education, and start making real investments in community safety."

The DA's Office on Wednesday also denounced hateful misinformation circulating online about the defendant, who identifies as male, and hateful attacks on the trans community.

"Just as we would never tolerate an act of gun violence from any member of the community, we cannot tolerate acts of hatred and bigotry directed at members of any community, including the most marginalized among us," DA Krasner said. "While law enforcement's investigation of this mass shooting is still active and ongoing, there are certain facts we can acknowledge: Trans and gender-nonconforming people are subjected to a great deal of state-sanctioned bigotry and the poverty, violence, and victimization that marginalized people endure."

DA Krasner continued, "A culture that seeks to isolate trans and gender-nonconforming people from the full benefits of democracy is a culture that encourages violence against LGBTQ+ people. Trans and gender-nonconforming people are not the danger. A culture that encourages violence against out groups and that simultaneously cheers when communities are flooded with weapons of war — that culture is the danger."

CONTACT:Jane Roh, 215-686-8711, [email protected]

###

The Philadelphia District Attorney's Office is the largest prosecutor's office in Pennsylvania, and one of the largest in the nation. It serves the more than 1.5 million residents of the City and County of Philadelphia, employing 600 lawyers, detectives, and support staff. The District Attorney's Office is responsible for the prosecution of approximately 40,000 criminal cases annually. Learn more about the DAO by visiting PhillyDA.org.