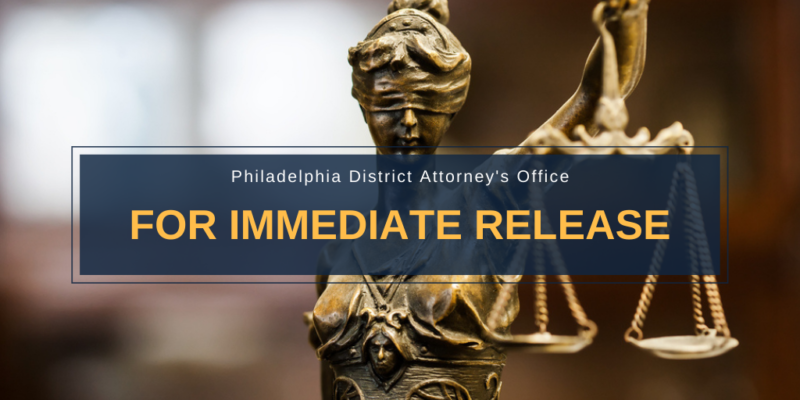 PHILADELPHIA (July 9, 2023) – District Attorney Larry Krasner on Sunday released the following statement on new information in the ongoing law enforcement investigation of the July 3, 2023, mass shooting in Kingsessing, in which five people were fatally wounded and five people are recovering:  "Following law enforcement response, on-scene investigation, and arrest by Philadelphia Police, my office on Wednesday charged Kimbrady Carriker (DOB: 10/27/1982) with five counts of Murder, five counts of Attempted Murder, and related offenses for his alleged actions on the evening of Monday, July 3rd. Carriker is currently being detained without bail.  "As the DA's Office and the Philadelphia Police Department made clear throughout last week, the investigation of this horrifying tragedy is active, ongoing, and will continue throughout the course of our prosecution of this defendant. Our oaths as prosecutors require that the charges we have filed against this defendant are guided by the facts and the truth. "We have learned from the ongoing investigation by PPD Homicide and the Medical Examiner's Office that one of the victims, Joseph Wamah, Jr., was shot and died earlier than was initially believed. We now have new information that indicates Mr. Wamah was killed at approximately 12:30 a.m. on Sunday, July 2 – approximately 48 hours before his body was discovered by relatives and approximately 44 hours before the mass shooting on July 3rd. Forensic medical examination corroborates that Mr. Wamah was killed long before the other victims were harmed, and is scientifically consistent with the timing noted above. Additional evidence supports the conclusion that Kimbrady Carriker murdered Wamah on July 2nd and that Carriker also murdered and wounded multiple other victims on July 3rd.
"The grieving family of the deceased has been briefed on this new information, and I cannot express enough the sorrow I feel — and that surely all the officers and detectives working on this investigation must feel — that these developments may be confusing and re-traumatizing for Mr. Wamah's loved ones. This new information, however, has not changed the number or type of charges we have filed against defendant Carriker: the Commonwealth alleges that he is responsible for the death of Mr. Wamah on July 2, 2023. This new information will lead the Commonwealth to amend or modify the timing alleged in the complaint against Carriker for the murder of Mr. Wamah from July 3, 2023, to July 2, 2023.
"I want to thank PPD Homicide, particularly the detectives and personnel who have worked day and night on this investigation, for the professionalism and dedication they have poured into finding the truth in this case. It is normal for new information to be obtained by law enforcement during the course of any criminal investigation. Excellent investigations require checking and re-checking what is believed to build a solid case and ensure those beliefs are based upon facts. Law enforcement should always act with integrity and follow the facts wherever they lead.
"Again, I want to state that this investigation remains highly active and highly complex. As this defendant is now being prosecuted on 10 very serious cases, we must limit public comment to the many criminal court proceedings to come."
###
The Philadelphia District Attorney's Office is the largest prosecutor's office in Pennsylvania, and one of the largest in the nation. It serves the more than 1.5 million residents of the City and County of Philadelphia, employing 600 lawyers, detectives, and support staff. The District Attorney's Office is responsible for the prosecution of approximately 40,000 criminal cases annually. Learn more about the DAO by visiting PhillyDA.org.