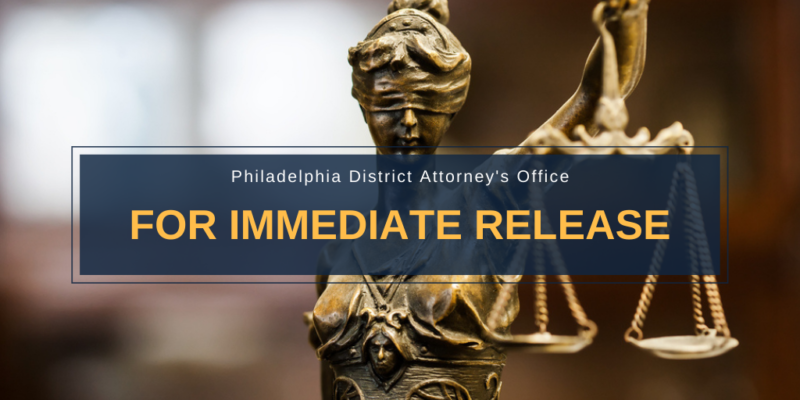 PHILADELPHIA (October 12, 2023) – Jalen Mickens pleaded guilty on Thursday for his role in three gang-related shootings in West Philadelphia, following an intense investigative effort led by the DA's Gun Violence Task Force and partner law enforcement agencies.
Mickens (DOB: 1/28/2001) was facing trial for three separate shooting incidents that took place on July 4, 2021, including a violent assault of a community barbecue in the Cobbs Creek neighborhood attended by dozens of people. The Philadelphia Police Crime Scene Unit recovered 103 fired cartridge casings (FCCs) at the scene.
Sircarr Johnson, Jr., 23, who organized the free barbecue to celebrate the anniversary of his clothing store, was killed. Neither he nor a second homicide victim, 21-year-old Salahaldin Mahmoud, were affiliated with the rival violent groups Mickens and his associates were targeting. A third victim, a woman, sustained gunshot wounds and survived, while a fourth victim sustained shrapnel injuries while driving a car near the scene.
For this incident, Mickens pleaded guilty to 2 counts of Murder, Conspiracy to Commit Murder, Aggravated Assault, VUFA No License, and Simple Assault.
ADA Jeff Palmer, Assistant Chief of the Gun Violence Task Force, praised the collaborative investigative efforts of law enforcement at every level of government.
"With these convictions of multiple criminal offenses including murder, the Philadelphia criminal legal system has helped ensure that Jalen Mickens can no longer harm the overwhelmingly peace-seeking residents of West Philadelphia — a community that for decades has lived in the crossfire of a small number of young people armed with an endless supply of deadly firearms," ADA Palmer said. "The Philadelphia District Attorney's Gun Violence Task Force continues to make aggressive gains — alongside partner state and federal agencies — to identify and incapacitate violent, criminal gangs such as the one Mickens affiliated with and the ones Mickens targeted. New funding from the federal and state government empowered us to expand and modernize investigative tools key to clearing these shooting cases, and we look forward to continuing this important work in service of peace and safety in all Philadelphia neighborhoods."
Partners who played major roles in investigations leading to Mickens' convictions include: PPD Homicide Detective John McNamee; PPD SIG Detectives James Brady and Dave Gannone; PPD Officers Rich Edwards and Robert Lamanna; Special Supervising Agent Chris Marano and Special Agents Justin Clarke, Donald Marano, Jim Owens, and Micah Spotwood of the Office of Attorney General; FBI Special Agent Jeff Guagliardo; and DAO Digital Forensic Analysts Christopher Lezyinski, Amanda McCourtie, and Tiffany Brown.
Councilmember Jamie Gauthier of the 3rd District, which includes the Cobbs Creek neighborhood, added, "I hope that the family of the victims and the entire community find some closure and peace knowing that one of the perpetrators of this reckless and senseless act of gun violence will be held accountable for his actions. The loss of beloved family members, friends, and neighbors in the prime of their lives, whose only fault was being in the wrong place at the wrong time, still stings. I commend District Attorney Larry Krasner and his team for their determination to secure justice for the Black and brown communities that receive it far less often than they deserve."
The deadly 2021 attack on a holiday celebration capped a night of violent and criminal acts by Mickens and at least three associates. Defendant Anthony Woodson is currently facing trial for multiple shootings, including the murders of Johnson and Mahmoud, while Philadelphia Police continue to seek information that could lead to the identification and arrest of other participants in that shooting who can be seen on video.
Mickens was also convicted of Aggravated Assault and Conspiracy to Commit Aggravated Assault for the non-fatal shooting of a rival group member at the 6000 block of Walton Street earlier that evening. The two other shooters who participated in the attack have not yet been identified by police.
The third shooting incident for which Mickens was convicted occurred at approximately 7:30 p.m. that evening. Mickens pleaded guilty to driving with Woodson by a residence on the 1600 block of South 54th Street where he and, allegedly, Woodson shot at rival gang members, striking two non-fatally. Mickens pleaded guilty to Conspiracy to Commit Aggravated Assault and 2 counts of Aggravated Assault for this shooting.
The DA's Office has also charged Mickens with a fourth criminal case which is still open: Possession With Intent to Deliver illegal substances including, allegedly, fentanyl and crack cocaine.
Mickens is scheduled to be sentenced by the Hon. J. Scott O'Keefe for the July 4, 2021, shootings and murders on January 5, 2024.
The Philadelphia Gun Violence Task Force comprises police officers, state agents, and county prosecutors. Information about the GVTF can be found on PhillyDA.org and AttorneyGeneral.gov.
CONTACT:
Jane Roh, 215-686-8711, [email protected]
###
The Philadelphia District Attorney's Office is the largest prosecutor's office in Pennsylvania, and one of the largest in the nation. It serves the more than 1.5 million residents of the City and County of Philadelphia, employing 600 lawyers, detectives, and support staff. The District Attorney's Office is responsible for the prosecution of approximately 40,000 criminal cases annually. Learn more about the DAO by visiting PhillyDA.org.