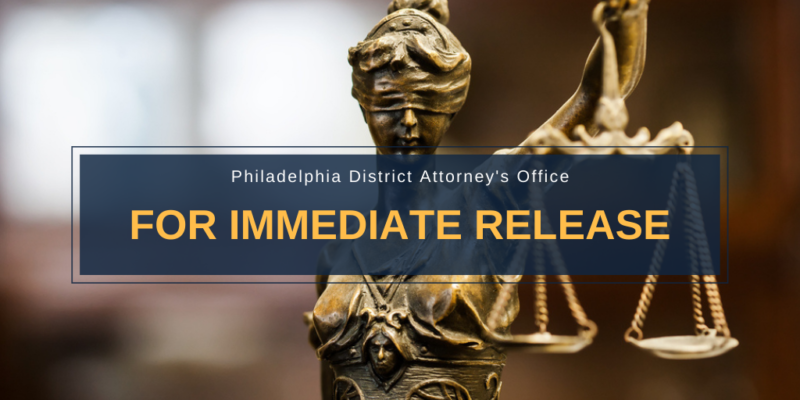 PHILADELPHIA (October 13, 2023) – District Attorney Larry Krasner issued the following statement on Thursday night's shooting incident at the Philadelphia International Airport, in which one Philadelphia Police officer was killed and a second officer is recovering from gunshot wounds:
"A Philadelphia Police officer's life ended violently last night, while another officer is recovering from gunshot wounds sustained in an airport parking area where the officers interrupted the shooters, who were engaged in other crimes involving cars.
"Law enforcement across multiple agencies are working continuously to identify those responsible — without the ability to quickly match ballistics on scene to a firearm that can be traced via database to point of regulated sale and owner, all because gun-crazy politicians serve the NRA's bloody agenda instead of serving and protecting the public. America has more guns than people, thanks to the same gun-crazy politicians who oppose commonsense gun regulations.
"Police go to work every day knowing they could at any moment encounter someone who has no business holding a gun, has a gun anyway, and is willing to fire upon others for no reason at all. Last week, three Philadelphia Police officers were shot responding to two domestic shootings — among the most volatile and dangerous situations for officers to walk into. We are thankful that they are recovering, and that the second officer shot last night is expected to survive. We send our deepest condolences to the loved ones of the officer who was killed last night, and are in close contact with investigators seeking to apprehend the individuals responsible, so they can be held accountable. As always, our victim services resources are available to the victims and survivors of these terrible crimes.
"I urge anyone who has information about last night's violent assault on our officers to contact Philadelphia Police at 215-686-TIPS (8477)."
CONTACT:
Jane Roh, 215-686-8711, [email protected]
###
The Philadelphia District Attorney's Office is the largest prosecutor's office in Pennsylvania, and one of the largest in the nation. It serves the more than 1.5 million residents of the City and County of Philadelphia, employing 600 lawyers, detectives, and support staff. The District Attorney's Office is responsible for the prosecution of approximately 40,000 criminal cases annually. Learn more about the DAO by visiting PhillyDA.org.