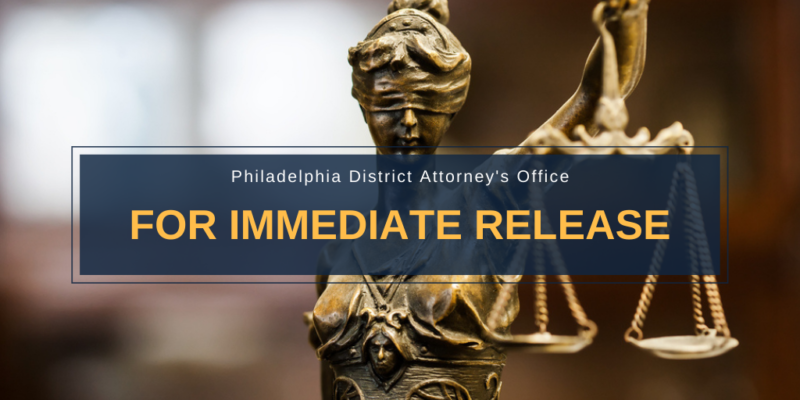 PHILADELPHIA (October 6, 2023) – The Philadelphia Gun Violence Task Force on Friday secured sentences of 45 years to 90 years in prison for two young people engaged in senseless, retaliatory shootings with rival street groups in South and Southwest Philadelphia for years – leaving families devastated and neighbors living in fear of random gun violence.
The Hon. Charles A. Ehrlich on Friday sentenced Yameen Mofield (DOB: 5/21/2002) and Hanef Wilkins (DOB: 2/28/2001) each to 45 to 90 years of incarceration for the October 2018 shooting death of 15-year-old Rasul Benson at a gas station on the 2500 block of Passyunk Avenue in South Philadelphia. Two other teenagers were shot and survived the assault.
Following a 10-day jury trial last June, GVTF Chief William Fritze and Assistant District Attorney Sheida Ghadiri secured the convictions of both defendants for Third Degree Murder, Conspiracy, Aggravated Assault, illegal firearms offenses, and related charges. During the trial, ADAs Fritze and Ghadiri presented the jury with witness testimony, surveillance video capturing parts of the shooting, and other digital and forensic evidence obtained as part of long-running complex investigations of retaliatory shootings involving multiple law enforcement agencies.
"Practically five years since young Rasul Benson was ripped from the earth and away from his future, the Philadelphia criminal courts today delivered a measure of justice to his still-grieving, forever traumatized family," GVTF Chief Fritze said. "I want to thank all of our partners at the Gun Violence Task Force, including the Philadelphia Police, as well as the skilled forensic analysts on our team – who were able to pry loose critical digital information that enabled us to hold Yameen Mofield and Hanef Wilkins accountable for the harm they have inflicted on their own neighbors, and our entire city."
Law enforcement personnel who supported the GVTF investigation of retaliatory group violence that the defendants and others already convicted participated in include Special Supervising Agent Chris Marano and Special Agent Jim Owens of the Office of the Attorney General; Philadelphia Police Deputy Commissioner Frank Vanore and Deputy Commissioner Special Operations Joel Dales; PPD Homicide Detectives Ralph Domenic and Frank Campbell; PPD South Detectives Christopher Maitland, Andrew Gallagher, Mike Ferry, and Mike Policella; PPD Officers Christopher Lai, Robert Lamanna, Matthew York, and Thomas Rosinski; and GVTF DAO Digital Forensic Analysts Amanda McCourtie and Christopher Lezynski.
Mofield and Wilkins are the latest of 15 young people to be convicted and sentenced for their roles in violent conflicts involving groups affiliated with the 31st Street, 27th Street, and Wilson Park gangs. In total, the retaliatory violence has claimed three lives – including that of Benson – and wounded more than 30 people in incidents known to law enforcement.
The Philadelphia Gun Violence Task Force comprises police officers, state agents, and county prosecutors. Information about the GVTF can be found on PhillyDA.org and AttorneyGeneral.gov.
CONTACT:Jane Roh, [email protected], 215-686-871
###
The Philadelphia District Attorney's Office is the largest prosecutor's office in Pennsylvania, and one of the largest in the nation. It serves the more than 1.5 million residents of the City and County of Philadelphia, employing 600 lawyers, detectives, and support staff. The District Attorney's Office is responsible for the prosecution of approximately 40,000 cri