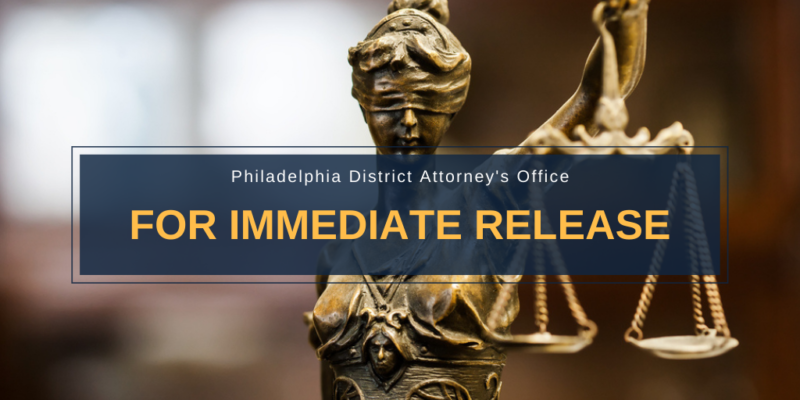 PHILADELPHIA (February 9, 2023) – The District Attorney's Office Homicide/Non-Fatal Shootings Unit has approved charges of Attempted Murder and related offenses against an individual from Delaware County for shooting at two Philadelphia Police officers, one of whom was seriously wounded, on Wednesday. The DAO has also approved charges for a second individual who participated in this crime.
Eric Haynes (DOB: 8/19/1977) was charged by the DAO with 2 counts each of Attempted Murder, Aggravated Assault, Assault of a Law Enforcement Officer, Recklessly Endangering Another Person, and Simple Assault. Haynes will also be charged with VUFA 6105/6106/6108, Possession of an Instrument of Crime, Tampering with Evidence, Obstructing Justice, Evading Arrest, and Resisting Arrest. At the time of Wednesday's shooting, Haynes was on Bench Warrant status in Delaware County for a 2016 Resisting Arrest case. Haynes' criminal history makes him ineligible to purchase or possess a firearm.
"Philly is united in relief that these police officers survived a shocking, life-threatening attack, and that Officer Giovanni Maysonet is expected to recover. The DAO and I are collaborating steadily with PPD and our criminal justice partners to ensure a solid investigation that will support vigorous prosecution," District Attorney Larry Krasner said. "I have been in contact with the wounded officer's family to advise that the DAO will provide all types of support to the officer and his family that we are able to provide. We know that this terrible crime has traumatized many others as well, including other PPD personnel, and offer our sympathy and our resources to them. The abundant availability of firearms to anyone who wants one, including those who cannot pass a background check, poses an avoidable and preventable danger to law enforcement officers and the communities they serve every day. Let's join together to wish this officer a swift and complete recovery from his injuries."
On the afternoon of February 8, Officer Maysonet and his partner, Officer Mychal Couch, effectuated a vehicle stop on the 200 block of North 60th Street. Haynes is alleged to have attempted to leave the scene. In response, Officer Maysonet attempted to detain him, and during the course of a physical struggle, Haynes is alleged to have discharged his firearm at least twice. Officer Maysonet was hit in his bulletproof vest in the chest area, and sustained one gunshot wound to the abdomen. He is expected to recover. Officer Couch returned fire but did not strike Haynes or the two other people in the vehicle with him.
The driver of the vehicle from which Haynes emerged during the vehicle stop, Ernest Reed (aka Raymond Williams), will be arrested and charged by the DA's Office with Tampering With Evidence, Obstructing Justice, Possession of an Instrument of Crime, and Recklessly Endangering Another Person. He was on state parole at the time of Wednesday's shooting.
The DA's Office will request that Haynes be held on $10 million bail for both cases and that Reed be held on $1 million bail, with a detainer lodged due to his parole violation.
This incident is under active and ongoing investigation by the Officer Involved Shooting Investigations team and Homicide/Non-Fatal Shootings Unit.
CONTACT:Jane Roh, 215-686-8711, [email protected]
###
The Philadelphia District Attorney's Office is the largest prosecutor's office in Pennsylvania, and one of the largest in the nation. It serves the more than 1.5 million residents of the City and County of Philadelphia, employing 600 lawyers, detectives, and support staff. The District Attorney's Office is responsible for the prosecution of approximately 40,000 criminal cases annually. Learn more about the DAO by visiting PhillyDA.org.