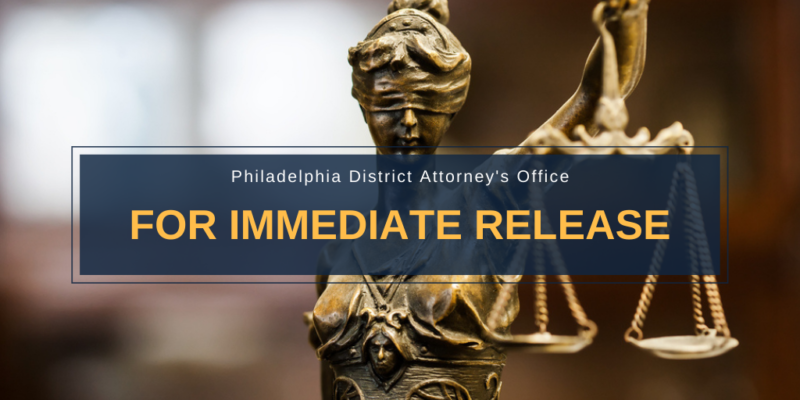 PHILADELPHIA (February 9, 2023) – Nearly eight months after formally taking the position that a Philadelphia woman's constitutional rights had been violated as a teenager when she was arrested and tried for a 2010 robbery and murder, the Philadelphia Court of Common Pleas on Thursday agreed to vacate the murder conviction of India Spellman – the first woman to be exonerated since the Conviction Integrity Unit was formed by District Attorney Larry Krasner in 2018.
"Eight months ago, my office informed the court that grave violations of India Spellman's constitutional rights – including violations that occurred when she was a child and placed under arrest and interrogated alone by a homicide detective who had an established record of misconduct regarding interrogations at the time – should move the court to vacate her conviction and sentence. After multiple additional hearings and filings by my office, a judge today finally granted Ms. Spellman the relief she is due and granted our motion to exonerate her completely," DA Krasner said. "Ms. Spellman's release from state custody is overdue. I extend my deepest condolences to the family of George Greaves."
An investigation started in 2019 by Conviction Integrity Unit (CIU) Supervisor ADA Michael Garmisa, Assistant Supervisor ADA Carrie Wood, and ADA Graham Sternberg in response to Spellman's Post Conviction Relief Act petition uncovered numerous instances of official misconduct, violations of her constitutional rights, and new evidence that supports Spellman's innocence claim, which included:
Interrogation of Spellman and her co-defendant as juvenile detainees by then-Philadelphia Police Homicide detective James Pitts, which produced unreliable confessions. Pitts' internal affairs misconduct record was improperly withheld from the defense at the time of trial.
Post-conviction forensic analysis of Spellman's cell phone carrier records make her presence at the crime scene unlikely, and corroborates alibi witnesses who would have testified that she had been home at the time the crime occurred.
A note memorializing a call shortly after the crime, in which an eyewitness, who would later identify Spellman at trial, told prosecutors she never saw the face of the suspect, which was improperly withheld from Spellman's defense counsel – a violation of her constitutional rights. When the CIU began its investigation of Spellman's PCRA petition in 2019, it disclosed this note to the defense for the first time, along with the entire case file.
Further investigation of the eyewitness identification testimony, including consultation with a nationally recognized expert, led the CIU to conclude that the identification was unreliable.
Spellman's co-defendant, who was 14 years old at the time of arrest, has since testified that he gave a false confession after being interrogated for hours by Pitts. He explained that no one believed him when he told them he falsely confessed; and then, while detained in a juvenile facility, he was compelled to testify against Spellman based on his false confession.
Spellman told the CIU that she was physically assaulted by Pitts while being interrogated.
Spellman — who at 17 was 5'6" tall and weighed 125 pounds — and her co-defendant were arrested by Philadelphia Police during the course of investigation of two criminal incidents that occurred in quick succession on August 18, 2010: the robbery at approximately 2:33 p.m. of an older woman, who described the suspects as a Black woman with dark skin and "a Muslim outfit" (who was later described by other witnesses as older, dark-skinned, and heavyset) and a Black man; and the robbery and murder between approximately 3:22 p.m. and 3:37 p.m. of George Greaves, a World War II veteran.
On June 24, 2022, the DA's Conviction Integrity Unit formally informed Judge Scott DiClaudio that serious Brady violations rendered her trial unconstitutional, and that her conviction should therefore be vacated. The judge declined to make a ruling, however, and instead ordered several additional hearings, during which time the CIU filed supplemental motions on August 23, 2022, and October 4, 2022, consistently restating its findings of fact regarding Spellman's PCRA. Spellman remained in custody during this delay.
The CIU on February 3, 2023, filed a fourth brief concluding that Spellman was likely innocent of the 2010 murder of George Greaves, and again urging the court to grant her relief by vacating her conviction and sentence.
During a hearing this morning, Judge DiClaudio acknowledged a written victim-impact statement of Greaves' closest surviving family member, but refused to allow the CIU to read the statement into the record, crumpling the statement and throwing it away. The full victim impact statement to the court is as follows:
"I am Myrtle Ryan, closest surviving relative of George Greaves. Our mothers were sisters, and he was like a brother to me. 
"I was present at India's trial in 2013 and have read accounts of the concerns over her conviction as well as been informed by my daughter who has attended the recent hearings of the present proceedings. 
"I am now convinced that India did not murder Bud and am greatly saddened that she has become another victim of this incident through no fault of her own.  "I am requesting that you consider favorable the petitions before you to grant a new trial and declare her innocent.   "We are devastated knowing that Bud's killer has never been apprehended and that India has spent 12 years in prison for a crime she did not commit."
###
The Philadelphia District Attorney's Office is the largest prosecutor's office in Pennsylvania, and one of the largest in the nation. It serves the more than 1.5 million residents of the City and County of Philadelphia, employing 600 lawyers, detectives, and support staff. The District Attorney's Office is responsible for the prosecution of approximately 40,000 criminal cases annually. Learn more about the DAO by visiting PhillyDA.org.