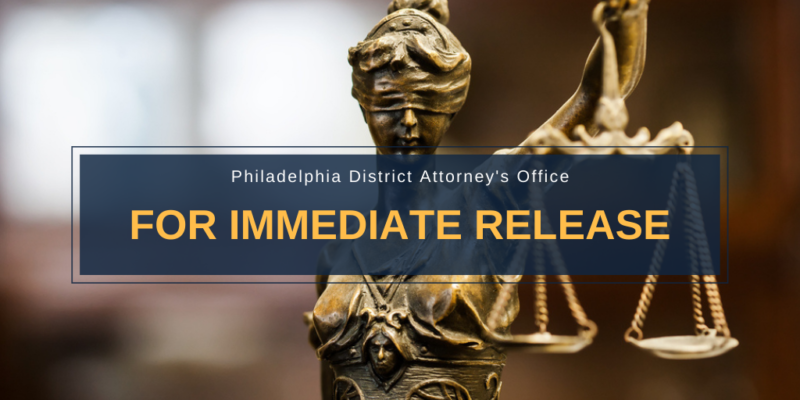 PHILADELPHIA (February 16, 2023) – District Attorney Larry Krasner on Thursday issued the following statement on Governor Josh Shapiro's announcement that he has changed his mind about supporting application of the death penalty in Pennsylvania:
"Given Governor Shapiro's previous and consistent support for upholding the death penalty as Attorney General, today's announcement that Shapiro now opposes the death penalty is a very welcome and encouraging evolution in his position. The Governor's evolution today is consistent with President Biden's previously stated opposition to executing people, as well as public opinion that continues to shift against executing people.
"In light of today's announcement, I am calling on the Attorney General's Office to also adjust its support for death sentences. As AG, Josh Shapiro joined the Fraternal Order of Police and Republican lawmakers in filing a brief with the Pennsylvania Supreme Court defending the death penalty, and opposing the Philadelphia DAO's position that the death penalty in Pennsylvania is unconstitutional as applied. The AG's Office has consistently taken the position of defending death sentences imposed in Philadelphia County and other PA counties, including in cases where the defendants have already served decades in prison.
"In 2019, when my office undertook an unprecedented review of every Philadelphia death sentence over nearly four decades (1978-2017) as an aspect of briefing the King's Bench case challenging the death penalty's constitutionality in Pennsylvania, we found that 72% of those 155 sentences were ultimately overturned. More than half of the time, the courts cited ineffective assistance of defense counsel in overturning a death sentence imposed in Philadelphia.
"The death penalty in Pennsylvania overwhelmingly applies to Black and brown defendants, mentally impaired defendants, and poor defendants who cannot afford legal counsel and are assigned court-appointed lawyers. It does not do what the law requires — apply the ultimate penalty to the worst offenders who commit the worst homicides. Rather, it applies the ultimate penalty to the poorest and most impaired defendants.
"There is no scientific consensus that the death penalty deters crime. In fact, the states where the death penalty has the most support tend to have higher murder rates. The bulk of death sentences in Pennsylvania were imposed during a time when there were no Conviction Integrity Units, such as we have here in Philadelphia, and when violations of defendants' constitutional rights were routine in a way we are just beginning to comprehend.
"Pennsylvania is today one of 27 states where the death penalty is still applied. Philadelphia is the only city in the Northeastern United States where it is allowed by state law. While enlightened and evolving attitudes toward the criminal justice system — particularly toward brutal, racist, and illegal policing and prosecution in the Frank Rizzo era — have resulted in fewer capital cases in Pennsylvania, ongoing appellate litigation involving people who are still sitting on death row has cost taxpayers close to $1 billion dollars since 1978, according to one analysis. Pennsylvania should accept the position New Jersey's chief prosecutors took over a decade ago: that ending the death penalty and spending the money it wastes on other things will make us safer than the death penalty ever did.
"My position on the state execution of human beings has been consistent since 1984, when I served as a juror in a death penalty criminal trial just prior to attending law school. It is consistent with the positions I have taken throughout my law career. Today's announcement is welcome, and I join longtime opponents of state executions in strongly urging the Pennsylvania General Assembly and Pennsylvania Attorney Generals Office to evolve now and reform their attitudes toward capital punishment, as well."
CONTACT:Jane Roh, 215-686-8711, [email protected]
###
The Philadelphia District Attorney's Office is the largest prosecutor's office in Pennsylvania, and one of the largest in the nation. It serves the more than 1.5 million residents of the City and County of Philadelphia, employing 600 lawyers, detectives, and support staff. The District Attorney's Office is responsible for the prosecution of approximately 40,000 criminal cases annually. Learn more about the DAO by visiting PhillyDA.org.