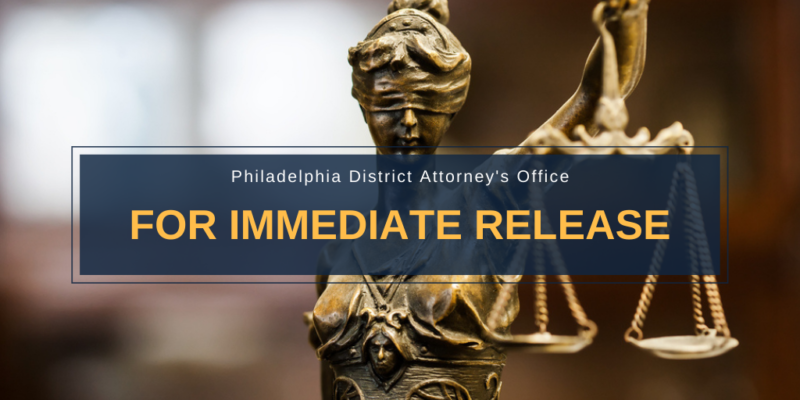 PHILADELPHIA (February 19, 2023) – District Attorney Larry Krasner on Sunday announced the DA's Office Homicide/Non-Fatal Shootings Unit will be prosecuting Miles Pfeffer, 18, of Buckingham Township, Pennsylvania, for the murder of an on-duty Temple University Police officer on Saturday evening.
Pfeffer was taken into custody by the U.S. Marshals and Bucks County law enforcement earlier this morning. He was transferred to Philadelphia shortly after, and has been arrested by the Philadelphia Police, which is leading the investigation of the murder of the fallen officer.
The DA's Office will be charging Miles Pfeffer with Murder, Murder of a Law Enforcement Officer, Robbery, Carjacking, VUFA 6106/6108, Possession of an Instrument of Crime, and related offenses. As with all defendants charged with Murder, Pfeffer is ineligible for release on bail.
Temple University Police Officer Christopher Fitzgerald encountered Pfeffer on Saturday night during the course of an incident investigation near the border of Temple's campus. Pfeffer is alleged to have shot Officer Fitzgerald in the head, killing him. Pfeffer is also alleged to have attempted to rob Officer Fitzgerald of his gun and to have gone through his pockets, while the officer was laying on the ground and fatally wounded. Pfeffer is further alleged to have committed a carjacking a short time after, close to the location of the officer's murder.
"We join law enforcement and people across the region in expressing our heartbreak and outrage over this horrific crime. Officer Fitzgerald's life was ripped from him and his loved ones violently and senselessly. As the DA's Homicide Unit begins the work of holding Miles Pfeffer accountable for his alleged crimes, our Victims Services team will also be extending loving support to Officer Fitzgerald's family and loved ones," DA Krasner said. "Temple University Police, the U.S. Marshals, the PPD and their colleagues in Bucks County are all to be commended for bringing this defendant into custody so quickly. Once again, I call on state and federal lawmakers to apply that same urgency toward addressing the obscene supply and availability of firearms in our communities, which robs people of their lives, futures, and freedoms in a way that no other wealthy peacetime nation tolerates. Students, staff, and public safety officers from Pennsylvania to Michigan to California deserve to live freely – absent the danger and trauma that daily gun violence imposes on every American."
CONTACT:Jane Roh, 215-686-8711, [email protected]
###
The Philadelphia District Attorney's Office is the largest prosecutor's office in Pennsylvania, and one of the largest in the nation. It serves the more than 1.5 million residents of the City and County of Philadelphia, employing 600 lawyers, detectives, and support staff. The District Attorney's Office is responsible for the prosecution of approximately 40,000 criminal cases annually. Learn more about the DAO by visiting PhillyDA.org.