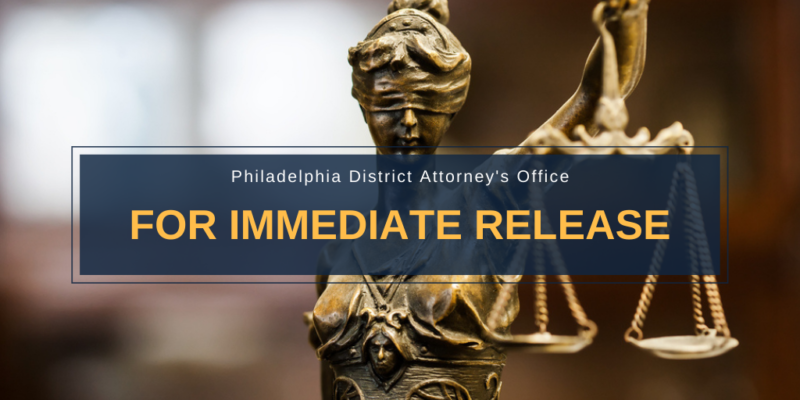 PHILADELPHIA (February 6, 2023) — District Attorney Larry Krasner and the Philadelphia District Attorney's Office Homicide and Non-Fatal Shooting Unit announced the conviction of Eugene Watson (DOB 6/19/1993) for his role in the non-fatal shooting of a man in the city's Overbrook section in 2021. The shooting, which stemmed from an unspecified dispute between the defendant's sister and her ex-partner, occurred on the afternoon of April 26, 2022 on the 1100 block of Marlyn Road. Earlier that day, the defendant's sister, Kasimah Watson-Davis, got into an argument with Harold Adams, the father of her child. She subsequently arrived at the Adams residence to pick up her 11-year-old son. Two men wearing masks — one of whom was identified as the defendant — arrived at the house while Watson-Davis entered the residence to use the bathroom. After exiting the house with his mother, the 11-year-old stated that the defendant was standing in the driveway holding a firearm.

After Watson-Davis and her son drove away, Eugene Watson and an unidentified accomplice entered the home and opened fire on the complaining witness, Harold Adams' brother, shooting him in the chest. The brother, who possesses a license to carry a firearm, returned fire. Before fleeing the scene, one of the assailants also lobbed an incendiary device into the home, causing a significant amount of damage to the property. Harold Adams, the likely target of the assault, was not present at the time of the incident. Watson's firearm was never recovered. He was arrested and charged in September of 2021. Watson's unidentified co-conspirator was not apprehended.Aggravated Assault (F1), 6105–Possession of Firearm Prohibited (F1), and related charges after a waiver trial before the Hon. Diana Anhalt. He is currently scheduled for sentencing on March 31, 2023. "I commend the 11-year-old witness who bravely testified to hold Mr. Watson accountable for his actions," said DA Krasner. "I'm also grateful to Assistant District Attorney Kristin Pachell of the DAO's Homicide and Non-Fatal Shooting Unit for her skillful prosecution of this case." "Law enforcement often cannot bring violent perpetrators to justice without the assistance of the public," said ADA Pachell. "I urge residents who have information about serious crimes to contact the Philadelphia Police Department's tip line: 215-686-TIPS (8477)."

Watson was found guilty of

CONTACT:Dustin Slaughter, 215-686-8713, [email protected]

###

The Philadelphia District Attorney's Office is the largest prosecutor's office in Pennsylvania, and one of the largest in the nation. It serves the more than 1.5 million residents of the City and County of Philadelphia, employing 600 lawyers, detectives, and support staff. The District Attorney's Office is responsible for the prosecution of approximately 40,000 criminal cases annually. Learn more about the DAO by visiting PhillyDA.org.