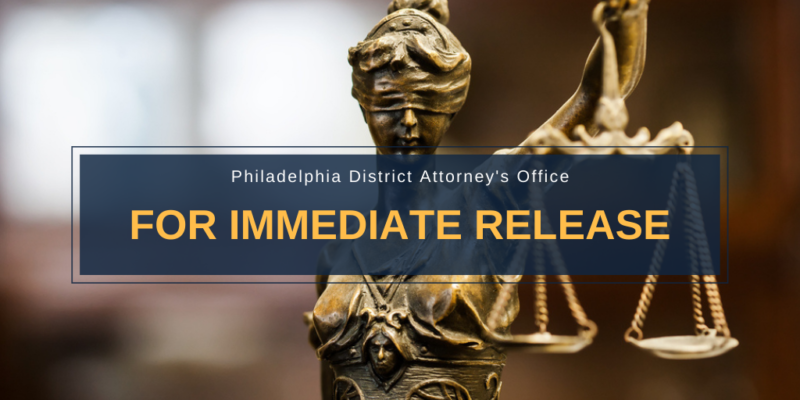 PHILADELPHIA (January 27, 2023) – Following is a statement from District Attorney Larry Krasner on the killing of Tyre Nichols, 29, following a traffic stop earlier this month. Five Memphis Police officers have since been fired from the department and criminally charged with murder.
"When a police encounter results in violence and death, there must be unbiased investigation, transparency, and accountability. As loved ones and community members mourn the needlessly violent and tragically preventable death of Tyre Nichols, a 29-year-old father who was killed after being pulled over by police officers in Memphis, Tennessee, the process of investigation, transparency, and accountability is underway. Fortunately, the chief prosecutor involved is a reformer in criminal justice, who believes in even-handed justice that restores trust between communities and their elected prosecutors.
"Five Memphis police officers have been fired and are now criminally charged with Nichols' murder. Having met Shelby County District Attorney Steve Mulroy shortly after voters elected him last August, I am hopeful that accountability for the individuals alleged to have brutalized and killed Tyre Nichols will be delivered in a court of law. Last year, Shelby County voters chose a criminal justice reformer in DA Mulroy to clean up what many considered to be a notoriously racist and violent criminal legal system – something Philadelphia residents know something about.
"The city of Memphis is releasing video of Tyre Nichols's arrest today at 6:00 p.m. ET at the request of his family, who are demanding and deserve transparency and accountability for their loss. The American public will be confronted yet again with the reality of systemic, institutionalized injustice. We must reconcile with the painful fact that after the racial injustice uprisings of 2020, police killings and assaults of civilians continued and reached a record high in 2022.
"It is evident that to achieve justice and peace in our communities requires action, much more than words. DA Mulroy is seeking even-handed justice on behalf of communities that took action and voted him into office. Tennesseans and Americans across the country are holding peaceful vigils to honor and memorialize Tyre Nichols, who reportedly was an active and joyful skateboarder. This is community and loving solidarity in action.
"May we honor the wishes of Nichols' parents, who have called on the public to honor Tyre's memory with peaceful protest. And may we be doggedly relentless in challenging those who would seek to shield law enforcement from investigation, transparency, and accountability. Ours is not a caste system, where any group is above the law."
###
The Philadelphia District Attorney's Office is the largest prosecutor's office in Pennsylvania, and one of the largest in the nation. It serves the more than 1.5 million residents of the City and County of Philadelphia, employing 600 lawyers, detectives, and support staff. The District Attorney's Office is responsible for the prosecution of approximately 40,000 criminal cases annually. Learn more about the DAO by visiting PhillyDA.org.