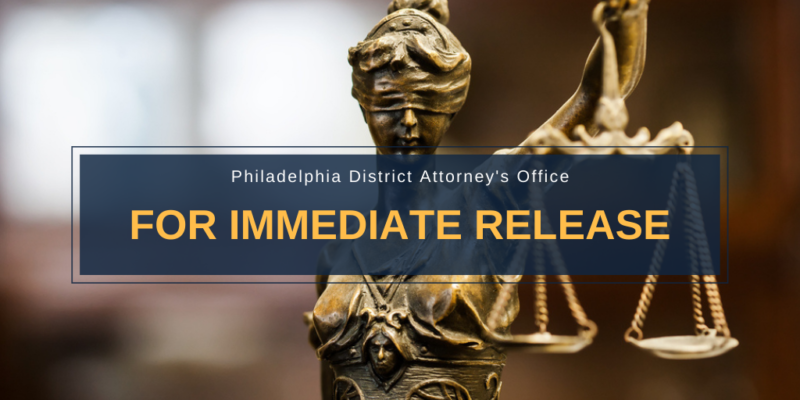 PHILADELPHIA (May 2, 2023) — District Attorney Larry Krasner and members of the Philadelphia District Attorney's Office Gun Violence Task Force (GVTF) announced today at Bible Way Baptist Church the arrests of four suspects for their roles in various shootings, two of which were fatal, that occurred across Southwest Philadelphia in 2021. These arrests are the result of a years-long and ongoing investigation conducted by Philadelphia Police Detectives and the GVTF seeking to identify individual drivers of gun violence within various street groups known to law enforcement. A Philadelphia Investigating Grand Jury has determined the following:Roderick Williams (DOB 12/8/1999), a member of a group known as "56th Street", is charged with Murder, Attempted Murder, Aggravated Assault, and related illegal gun offenses for his roles in shootings throughout Southwest Philadelphia. The homicide he is alleged to have committed occurred on the evening of April 7, 2021 on the 600 block of S. 55th Street. Responding officers found a 21-year-old victim in a 2011 Jeep Cherokee with a single gunshot wound to the head. Investigators utilized surveillance cameras from a nearby business that showed Williams fleeing the crime scene, and .22 caliber fired cartridge casings recovered from inside the Jeep, to connect the defendant to this homicide.

Trevon Johnson (DOB 8/28/2002), who associates with the "524" street group, is charged with Murder, Attempted Murder, Conspiracy, and related charges for his roles in two non-fatal shootings that occurred on the 5900 block of Lansdowne Avenue, and a gun homicide and additional non-fatal shooting that occurred on the 4600 block of Walnut Street on June 29, 2021. A 21-year-old and 19-year-old were shot and seriously wounded when Johnson and two other shooters—later identified as "524" associates Kenneth Wilson and Jahsir Nelson—arrived in a red Honda Civic, exited the vehicle, opened fire, and then fled in the same vehicle. Surveillance video captured the shooting as well as the make and model of the getaway car. Investigators recovered 24 9mm fired cartridge casings and 12 7.62 fired cartridge casings from the Lansdowne Avenue crime scene. Johnson, Wilson, and Nelson are also alleged to have committed a homicide and non-fatal shooting later that day when the three defendants targeted a 36-year-old female and a 33-year-old female who were sitting out in front of their residence. When Philadelphia police responded to the 4600 block of Walnut Street, they found the 36-year-old deceased and the 33-year-old shot and wounded in her legs and arms. The defendants had fired over 20 shots at the women. The spent cartridge casings recovered at the scene matched the ballistics located at the Lansdowne Avenue crime scene earlier that day.

Investigators subsequently determined that a total of four firearms were used between the two crime scenes. Police eventually linked one of the 9mm handguns used in the shootings to Jahsir Nelson after this firearm was recovered during his arrest. Online photographs also depicted Nelson holding a rifle capable of firing 7.62 rounds. The 7.62 fired cartridge casings also matched another firearm that was recovered from Kenneth Wilson after his arrest.Gun Violence Task Force Assistant Supervisor Jeffery Palmer, and his amazing GVTF colleagues and other law enforcement partners, members of "56th Street" and "524" will be facing justice in a court of law as well." "With these arrests, the Philadelphia District Attorney's Office in partnership with the Philadelphia Police Department, continues to send a stark message to those who threaten public safety through bloody turf wars: This violence will not be tolerated," said Assistant District Attorney Jeffrey Palmer. "Make no mistake: We know who you are. We are watching you. And you will be held accountable for your actions."

"Not long ago, my office announced that the street group known as '02da4′ would 'go to the jail'. That has come to fruition," said DA Krasner. "But the Philadelphia Police Department and the DAO's Gun Violence Task Force didn't stop there. And thanks to the hard work of PPD Detectives,

"No matter which side of the criminal justice system one falls on, both sides have to deal with pain, anguish, and grief," said Rev. Dr. Damone Jones, Senior Pastor at Bible Way Church. "And we are all affected by what happens on both sides. That's why a balanced approach is so critical here: The need for evenly and lawfully distributed justice is just as important as restorative and rehabilitative justice. We all need to stand together because what affects one of us affects all of us."  Kenneth Wilson and Jahsir Nelson (DOB 5/10/2004) are facing Murder, Attempted Murder, and related firearm charges stemming from their involvement in these shootings. They are also currently serving time in state incarceration for commercial robbery after a previous successful GVTF investigation and prosecution. Additional information related to this ongoing investigation will be released when appropriate.

CONTACT:Dustin Slaughter, 215-686-8713, [email protected]

###

The Philadelphia District Attorney's Office is the largest prosecutor's office in Pennsylvania, and one of the largest in the nation. It serves the more than 1.5 million residents of the City and County of Philadelphia, employing 600 lawyers, detectives, and support staff. The District Attorney's Office is responsible for the prosecution of approximately 40,000 criminal cases annually. Learn more about the DAO by visiting PhillyDA.org.