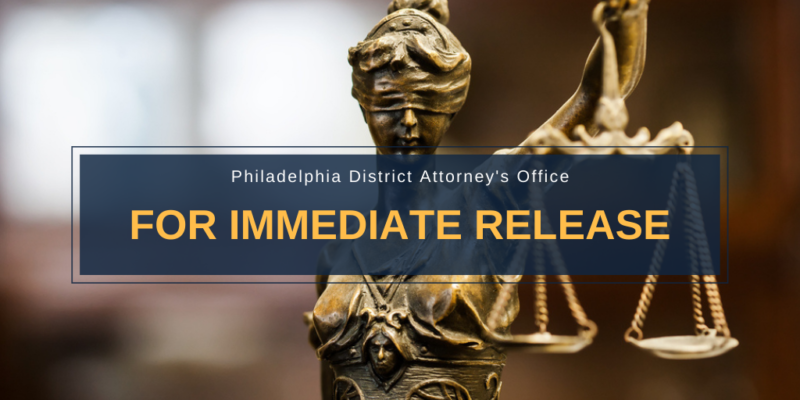 PHILADELPHIA (June 13, 2023) — District Attorney Larry Krasner and law enforcement partners on Tuesday announced the arrest of Kyree Dennis (DOB 07/29/1998), a fugitive wanted for murdering a 69-year-old male in a Citizens Bank ATM vestibule on the evening of March 3, 2022 in the city's Germantown section. The fatal shooting occurred on the 5700 block of Germantown Avenue. The DAO and law enforcement partners announced Dennis' fugitive status earlier this month and asked the public for assistance in bringing Dennis and other suspects to justice. Dennis was identified and arrested on the 3400 block of Marshall Street by 25th District Philadelphia Police Officers on the evening of June 11 after fleeing the officers on foot. He has been charged with Murder, Conspiracy, Robbery with Intent to Inflict Serious Bodily Injury, and various illegal weapon charges by the Philadelphia District Attorney's Office Homicide and Non-Fatal Shooting Unit. The decedent's family has been notified by the DAO of the defendant's arrest.
"Thanks to the quick and thorough work accomplished by the Philadelphia Police Department, Mr. Dennis no longer poses an immediate threat to our city's residents," said DA Krasner. "The very capable prosecutors in my office's homicide unit will steadfastly pursue justice on behalf of the victim, his family, and the community. There are other fugitives who remain at large and who must be held accountable for the harm they've caused. That's why my office and our law enforcement partners encourage the public to visit PhillyMostWanted.org for more information." Members of the public with information on fugitive suspects are encouraged to contact the Philadelphia Police Department's tip line: 215-686-TIPS (8477) or [email protected]. People with information can also contact the U.S. Marshall's Office: 1-877-WANTED-2 (1-877-926-8332). A preliminary hearing for Dennis is scheduled later this month.
CONTACT:Dustin Slaughter, 215-686-8713, [email protected]
###
The Philadelphia District Attorney's Office is the largest prosecutor's office in Pennsylvania, and one of the largest in the nation. It serves the more than 1.5 million residents of the City and County of Philadelphia, employing 600 lawyers, detectives, and support staff. The District Attorney's Office is responsible for the prosecution of approximately 40,000 criminal cases annually. Learn more about the DAO by visiting PhillyDA.org.