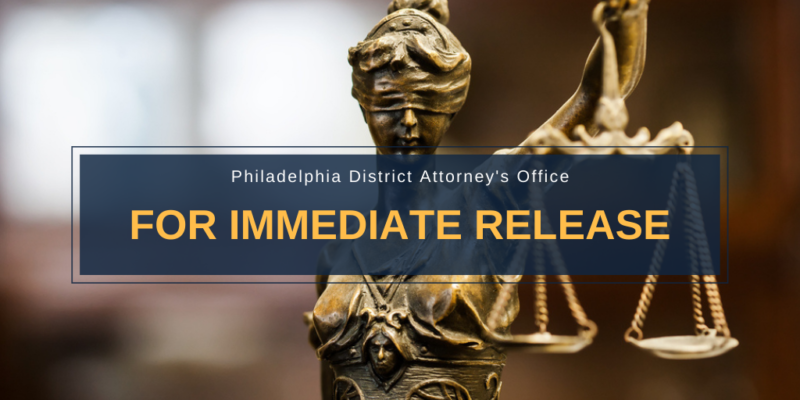 PHILADELPHIA (August 8, 2023) — District Attorney Larry Krasner and members of the Philadelphia District Attorney's Office Homicide and Non-Fatal Shootings Unit announced the jury conviction of Michael DiMauro (DOB 2/8/1972), a Warlocks motorcycle gang member, for the slaying of 33-year-old David Rossillo, Jr. Rossillo was last seen alive in December 2017. DiMauro was convicted of all charges, including First Degree Murder, Conspiracy, Abuse of Corpse, and related firearm charges. The jury returned their verdict after only several hours of deliberation. Investigators believe DiMauro met Rossillo, a prospective member of the Warlocks, at Mt. Moriah Cemetery in Southwest Philadelphia after gaining access to the cemetery with the assistance of a co-conspirator who served on the cemetery's nonprofit board. DiMauro shot Rossillo multiple times, tied a rope around Rossillo's neck, and then dragged his body to a crypt using a vehicle before prying open the crypt and dropping the body inside. Two cooperating witnesses implicated DiMauro in the murder.
On April 3, 2020, investigators located the crypt and discovered not only the remains of Rossillo, but the body of 36-year-old Keith Palumbo, a musician from Delaware County. DNA taken from the remains led to the official identification of Rossillo and Palumbo in August 2020. DiMauro was arrested the following month. Michael DeLuca, another Warlocks gang member, was arrested in 2021 and pleaded guilty to Third Degree Murder in Palumbo's killing in January of this year. Three other co-conspirators pleaded guilty for their roles in helping dispose of the bodies. Motives for both killings are not clearly known. DiMauro will be sentenced to life in prison without the possibility of parole by the Hon. Charles Ehrlich later this month. "We are committed to bringing justice in cold cases like this," said DA Krasner. "I believe that these convictions should send a message to any persons who think they can murder others and hide the evidence of their heinous crimes: We will solve these cases and we will bring you to justice."
"I want to thank now-retired Philadelphia Police Detective Joe Bambersky for his diligent and tireless work on this case," said Assistant District Attorney Robert Wainwright, who successfully prosecuted the DiMauro and DeLuca cases. "I'm very pleased that we are able to bring some measure of justice and peace to the loved ones of these two victims."
CONTACT:Dustin Slaughter, 215-686-8713, [email protected]
###
The Philadelphia District Attorney's Office is the largest prosecutor's office in Pennsylvania, and one of the largest in the nation. It serves the more than 1.5 million residents of the City and County of Philadelphia, employing 600 lawyers, detectives, and support staff. The District Attorney's Office is responsible for the prosecution of approximately 40,000 criminal cases annually. Learn more about the DAO by visiting PhillyDA.org.