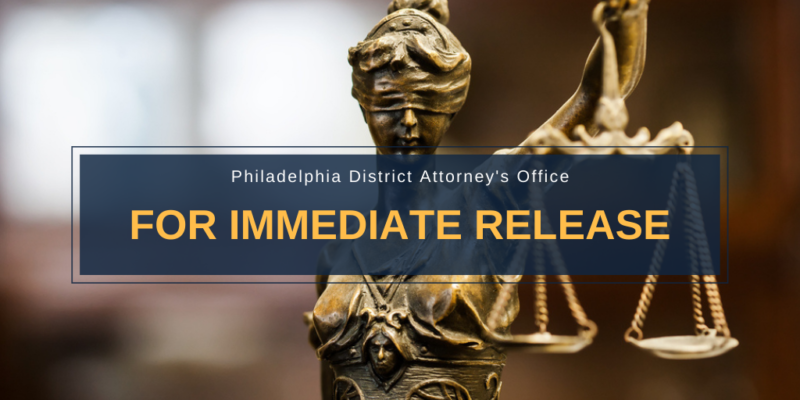 PHILADELPHIA (October 2, 2023) – District Attorney Larry Krasner and the District Attorney's LGBTQ+ Advisory Committee on Monday released the following statements on Josh Kruger, a longtime community journalist and justice advocate for the LGBTQ+ and recovery communities. Kruger was killed in an act of gun violence in his home overnight; Philadelphia Police are leading the investigation of his murder.
From DA Krasner:
"Josh Kruger lifted up the most vulnerable and stigmatized people in our communities – particularly unhoused people living with addiction. As an openly queer writer who wrote about his own journey surviving substance use disorder and homelessness, it was encouraging to see Josh join the Kenney administration as a spokesperson for the Office of Homeless Services. Josh deserved to write the ending of his personal story. As with all homicides, we will be in close contact with the Philadelphia Police as they work to identify the person or persons responsible so that they can be held to account in a court of law. I extend my deepest condolences to Josh's loved ones and to all those mourning this loss."
From the DA's LGBTQ+ Advisory Committee:
"Many of us knew Josh Kruger as a comrade who never stopped advocating for queer Philadelphians living on the margins of society. His struggles mirrored so many of ours – from community rejection, to homelessness, to addiction, to living with HIV, to poverty – and his recovery, survival, and successes showed what's possible when politicians and elected leaders reject bigotry and work affirmatively to uplift all people. Even while Josh worked for the Mayor, he never stopped speaking out against police violence, politicized attacks on trans and queer people, or the societal discarding of homeless and addicted Philadelphians.
"We are devastated that Josh's life was ended so violently. We urge anyone who has information that could lead to an arrest and prosecution for Josh's murder to contact the Philadelphia Police or the DA's Office directly. LGBTQ+ Philadelphians experience violence of all kinds every day; few people used their platforms to remind powerful people in government of that reality as effectively as Josh Kruger did. Josh and the communities he advocated for every day of his life deserve nothing less than justice and accountability for this outrageous crime."
The DA's LGBTQ+ Advisory Committee comprises prosecutors, victim support coordinators, and external leaders of the queer community in Philadelphia. Learn more about the committee's work to support LGBTQ+ victims and survivors here and here.
CONTACT:
Jane Roh, 215-686-8711, [email protected]
###
The Philadelphia District Attorney's Office is the largest prosecutor's office in Pennsylvania, and one of the largest in the nation. It serves the more than 1.5 million residents of the City and County of Philadelphia, employing 600 lawyers, detectives, and support staff. The District Attorney's Office is responsible for the prosecution of approximately 40,000 criminal cases annually. Learn more about the DAO by visiting PhillyDA.org.