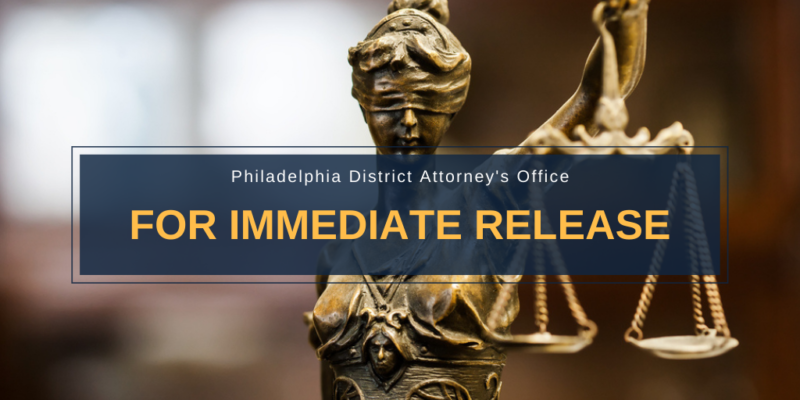 PHILADELPHIA (November 6, 2023) – Seventeen years after being picked up by police for violating a curfew for teens, and 15 years after being convicted for a murder for which he is likely innocent, David Sparks of Nicetown was ordered freed from prison on Monday by Court of Common Pleas Judge Scott DiClaudio.
The Philadelphia District Attorney's Conviction Integrity Unit (CIU) informed the court that Sparks' Post Conviction Relief Act (PCRA) petition should be granted and that his 2008 murder conviction for the 2006 shooting death of fellow teen Gary Hall should be vacated. On Monday, the Court of Common Pleas granted the PCRA petition, and the CIU then moved to nolle pros all charges. Sparks is expected to be released from prison later today.
The CIU investigation of the 2008 conviction and the underlying 2006 murder of Hall found that Sparks' constitutional rights at trial had been violated in numerous, significant ways, including: suppression by Philadelphia Police Homicide detectives of information from witnesses implicating another suspect, Ivan Simmons, and his brother, in Hall's murder; and suppression of information from Philadelphia Police investigators who also considered Simmons and his brother to be a suspect in the murder of Larres Curry a block away just days earlier.
Based on Simmons' link to both homicides and notes in the police file indicating that the ballistics evidence from both murders were the same caliber, the CIU requested that the Philadelphia Police Department's Firearms Identification Unit conduct the ballistics comparison police failed to request in 2008. This analysis determined that the weapon used to kill Hall was the same weapon used to kill Curry days earlier. This ballistics analysis established Simmons, already a suspect in the Curry murder, had access to the weapon used to kill Hall.
Simmons, a teen from Sparks' Nicetown neighborhood, was shot and killed in December 2006, just as Sparks was awaiting his preliminary hearing for the murder of Gary Hall. Police have not named a suspect or made an arrest for Simmons' murder. Information from the investigation of his murder indicated PPD viewed the crimes as part of a series of retaliatory shootings between two rival groups in the Nicetown neighborhood. Documents showing that PPD suspected that the Hall and Simmons murders were linked, and that the individuals involved believed Simmons was killed in retaliation for murdering Hall, were not disclosed to the prosecutor or defense attorney prior to trial. The CIU provided this information to the current defense attorneys and the prior trial prosecutor.
The trial ADA told the CIU that notes and documents implicating Simmons were not provided to him, and that he "did not understand why the police did not make them available to him."
Finally, Nick Walker, was placed at the scene of Hall's murder by other eyewitnesses. However, Walker was not interviewed by police until he was arrested and charged with committing a 2007 quadruple shooting of four Hall associates. Walker waived his Miranda rights and confessed, explaining how the cycle of retaliatory shootings had begun: "This happened right after Ivan killed Gary. Money was on my head because I would hang with Ivan."
"I want to thank ADA Kylie Thompson and our Conviction Integrity Unit prosecutors and paralegals who work relentlessly to seek the truth — and today have secured some measure of justice for the wrongful conviction of David Sparks in 2008," CIU Supervisor Michael Garmisa said. "We also acknowledge the painful re-traumatization experienced by Gary Hall's family throughout this process. Gary Hall was 19 years old, a recent high school graduate, who aspired to become skilled in the carpentry trade. He and his loved ones, and all victims of violence, deserve a criminal legal system that seeks to avoid such devastating errors."
In addition to the Brady violations at Sparks' trial, new information further undermines Sparks' conviction for the murder of Hall. The Commonwealth relied primarily on two teenage witnesses – 14- and 16-year-old cousins at the time of Hall's murder – who gave inconsistent statements about the crime and Sparks' and Simmons' involvement, which the court itself acknowledged before convicting Sparks. One of the cousins has since recanted much of her testimony against Sparks, and told the CIU that she was no longer confident in her identification of Sparks as the shooter.
In 2018, the Philadelphia Inquirer reported on Sparks' innocence claims, which precluded him from eligibility for re-sentencing and release even after the U.S. Supreme Court ruled that life-without-parole sentences for juveniles (like Sparks) were unconstitutional. The report includes audio of Sparks calling 911 at the scene of Hall's murder.
Sparks was only detained that evening after Philadelphia Police enforced a curfew for teens in the immediate vicinity. Although Simmons and his brother were placed at the scene by multiple witnesses shortly after the murder, they — unlike Sparks — fled the scene and evaded detention for the curfew violation that ensnared Sparks.
Information on exonerations secured by the CIU and Federal Appeals Unit can be found on the DA's DATA Dashboard.
CONTACT:
Jane Roh, 215-686-8711, [email protected]
###
The Philadelphia District Attorney's Office is the largest prosecutor's office in Pennsylvania, and one of the largest in the nation. It serves the more than 1.5 million residents of the City and County of Philadelphia, employing 600 lawyers, detectives, and support staff. The District Attorney's Office is responsible for the prosecution of approximately 40,000 criminal cases annually. Learn more about the DAO by visiting PhillyDA.org.