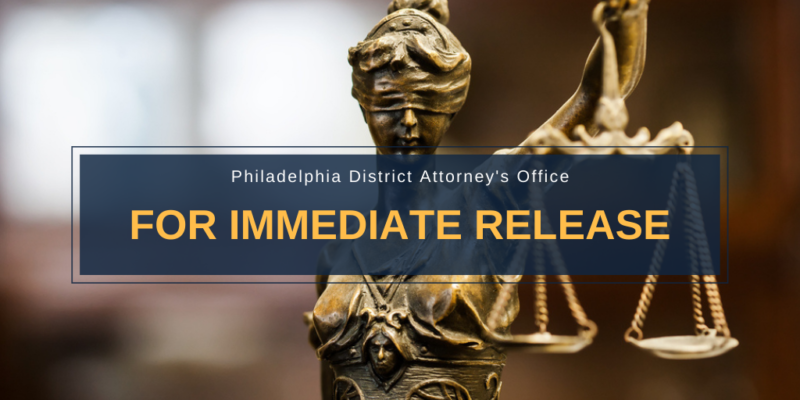 PHILADELPHIA (October 30, 2023) — District Attorney Larry Krasner and prosecutors with the Philadelphia District Attorney's Office Homicide and Non-Fatal Shootings Unit announced on Monday that Michael Ortiz (DOB 1/11/98) was convicted by a jury of First Degree Murder and related charges for fatally shooting a 31-year-old man in January 2021 in the city's Frankford section. Ortiz was convicted on October 20 of First Degree Murder, VUFA 6106 (F3), VUFA 6108 (M1), and Possession of an Instrument of Crime (M1), for fatally shooting 31-year-old Luis Alcazar in the early morning hours of January 28, 2021. Alcazar had just finished feeding his three-month-old son before leaving to drive to Ortiz's residence. After texting each other regarding the meeting location, the two men met inside the victim's car on the 5700 block of Walker Street. After approximately five minutes, Ortiz shot Alcazar, who was unarmed, three times inside the vehicle. Investigators obtained surveillance footage from the surrounding area that captured the killing on video. The video also enabled assigned Philadelphia Police detectives to link the defendant to a white Chrysler as he fled the scene. Police subsequently obtained search warrants for social media accounts and cell phones owned by Ortiz. They were able to identify the burner phone used by the defendant, perform forensic cell phone extractions, and obtain call detail records that placed Ortiz near the crime scene at the time of the murder. Ortiz was arrested in June 2021. A video compilation from the morning of the killing and other forensic evidence were presented to the jury at trial. Jurors returned their verdict in approximately three hours. "Thanks to Assistant District Attorney Kate Lewis for skillfully prosecuting this case and securing justice for Mr. Alcazar's family and community," said DA Krasner. "I also applaud the excellent investigatory work performed by the Philadelphia Police detectives assigned to this case. Thanks to their hard work, Michael Ortiz no longer poses a threat to the community."
"I'm grateful to Philadelphia Police Detective Thorsten Lucke for his crucially important video analysis and compilation, which was instrumental in obtaining a conviction in this case," said ADA Kate Lewis. "I also want to thank FBI Special Agent Jeffrey Guagliardo for his invaluable cell phone analysis assistance, as well as the other Philadelphia Police detectives assigned to this case. Together, we are able to deliver justice for Mr. Alcazar's family." Ortiz was sentenced to life incarceration without the possibility of parole by the Hon. Giovanni Campbell on October 20.
CONTACT:Dustin Slaughter, [email protected], 215-686-8713
The image below was provided by the Alcazar family for use by the news media.
###
The Philadelphia District Attorney's Office is the largest prosecutor's office in Pennsylvania, and one of the largest in the nation. It serves the more than 1.5 million residents of the City and County of Philadelphia, employing 600 lawyers, detectives, and support staff. The District Attorney's Office is responsible for the prosecution of approximately 40,000 criminal cases annually. Learn more about the DAO by visiting PhillyDA.org.