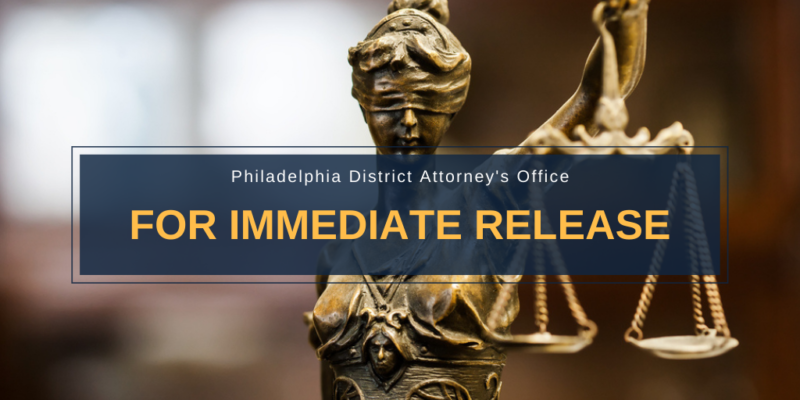 PHILADELPHIA (November 2, 2023) – The Court of Common Pleas on Thursday agreed that Eddie Ramirez's conviction for a brutal 1995 robbery-murder in a Northeast Philadelphia laundromat should be vacated, following a concession by District Attorney Larry Krasner's administration that Ramirez's constitutional rights had been violated at his 1996 trial.
Ramirez (DOB: 11/10/1976) and co-defendant William Weihe (DOB: 12/20/1976) were convicted by a jury for the February 20, 1995, killing of Joyce Dennis – who was found viciously beaten to death late at night, after the laundromat had been robbed of approximately $1,100 in paper currency. With no physical evidence tying him to the crime, Ramirez was convicted of First Degree Murder and sentenced to life imprisonment on the strength of statements from friends implicating him, including testimony from co-defendant Weihe.
In exchange for his cooperation against Ramirez, Weihe was permitted to plead guilty to Third Degree Murder. He served five years in prison before being released. Nearly all statements implicating Ramirez from fellow teenagers in his friend group – several of which were obtained after questioning by a police detective without a partner, guardian, or attorney present – have since been recanted. Several of the witnesses have since independently alleged that they were threatened and coerced by police into implicating Ramirez in the murder.
One of the detectives involved in the investigation, Paul Worrell, is known to the court for a pattern and practice of eliciting false confessions dating back to at least 1992, and has been implicated in other wrongful convictions that have since been vacated.
After investigating claims made by Ramirez in a Post Conviction Relief Act (PCRA) petition and disclosing the full DAO file to defense counsel – which was not the practice of prior DA administrations – the DA's Law Division Federal Litigation Unit on August 1, 2023, formally informed the court that Ramirez's constitutional rights had been violated, that new information further undermined the integrity of his murder conviction, and that he should be granted relief.
"I want to thank ADA David Napiorski of our Federal Litigation Unit for conducting a vigorous review of Mr. Ramirez's PCRA claims, as well as all police and prosecutor materials related to the investigation of the horrific murder of Joyce Dennis – including numerous exculpatory files that were not properly disclosed to defense counsel at trial," DA Krasner said. "The relief granted today is an acknowledgement that Mr. Ramirez's rights were violated, that he did not receive a fair trial, and that had certain information not been suppressed by police and prosecutors at the time, that the jury might well have reached a different conclusion. We must also acknowledge the pain and trauma that Joyce Dennis's loved ones have endured these many years. The criminal legal system also badly failed the victim of a horrendous violent crime and their loved ones."
Following the vacatur of Ramirez's conviction, the DA's Office will conduct another comprehensive review and will inform the court of its intent to re-try or nolle prosse the vacated charges within the next 30 days.
The DA's response to Ramirez's PCRA petitions can be found on PhillyDA.org. Information on exonerations — which occur when a court both vacates a conviction and grants a motion to nolle prosse the charges — secured by the CIU and Federal Appeals Unit can be found on the DA's DATA Dashboard.
CONTACT:Jane Roh, 215-686-8711, [email protected]
###
The Philadelphia District Attorney's Office is the largest prosecutor's office in Pennsylvania, and one of the largest in the nation. It serves the more than 1.5 million residents of the City and County of Philadelphia, employing 600 lawyers, detectives, and support staff. The District Attorney's Office is responsible for the prosecution of approximately 40,000 criminal cases annually. Learn more about the DAO by visiting PhillyDA.org.