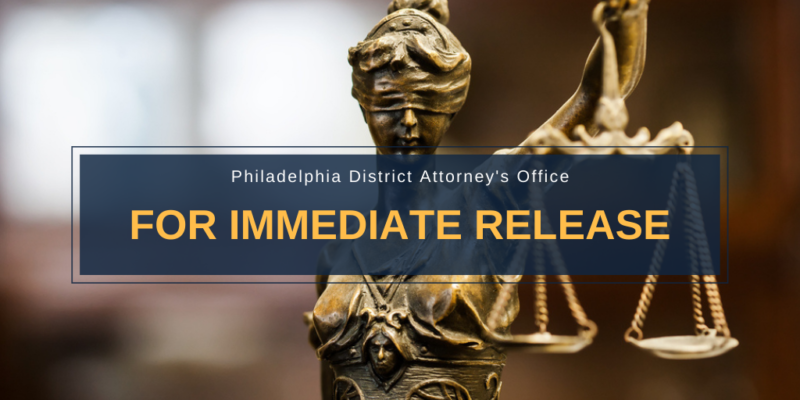 PHILADELPHIA (August 2, 2023) – The District Attorney's Major Trials Unit on Wednesday secured the conviction of a man who seriously injured four people — two seriously — in a 2022 vehicular assault.
Following a waiver trial before the Hon. Donna Woelpper in the Court of Common Pleas, defendant Andre Shuford (DOB: 10/18/1968) was found guilty of a total of 14 criminal offenses including two counts each of Aggravated Assault and Aggravated Assault by Vehicle, and four counts each of Simple Assault and Recklessly Endangering Another Person. Shuford's bail was revoked at Commonwealth's request and sentencing was scheduled for October 11, 2023.
On the morning of September 2, 2022, first responders arrived at the scene of a hit and run crash near the intersection of 56th and Vine streets. Four pedestrians including a 1-year-old, 3-year-old, and 5-year-old were transported to nearby hospitals for medical treatment.
The vehicle being driven by Shuford at the time of the vehicular assaults was found abandoned on the 5300 block of Race Street later that day. Within weeks, the Philadelphia Police Crash Investigation Division identified Shuford as the suspected driver, and a warrant for his arrest was approved on October 1, 2022. Shuford turned himself in to Philadelphia Police on October 20, 2022, and he has been held in custody ever since.
Shuford was prosecuted by Assistant District Attorney Brian Maguire of the Major Trials Unit.
"This case should serve as a reminder to the public that vehicles can be dangerous, even deadly weapons when driven by people who engage in selfish and reckless behaviors. Vehicular crashes caused by reckless driving are not accidents; they are violent, criminal acts that too often result in long-term injury and trauma to victims," Major Trials Unit Supervisor Liam Riley said. "Andre Shuford is now being held accountable for the suffering he caused four pedestrians, including an adult and child who were seriously injured. The PPD Crash Investigation Division, the DA's Charging Unit, and Major Trials ADA Brian Maguire did tremendous work to make sure Andre Shuford was identified, apprehended, and given a fair trial. Our thoughts are with the survivors of this crime, particularly the young children who to this day ask why a stranger would do something so violent to them."
CONTACT:Jane Roh, 215-686-8711, [email protected]
###
The Philadelphia District Attorney's Office is the largest prosecutor's office in Pennsylvania, and one of the largest in the nation. It serves the more than 1.5 million residents of the City and County of Philadelphia, employing 600 lawyers, detectives, and support staff. The District Attorney's Office is responsible for the prosecution of approximately 40,000 criminal cases annually. Learn more about the DAO by visiting PhillyDA.org.