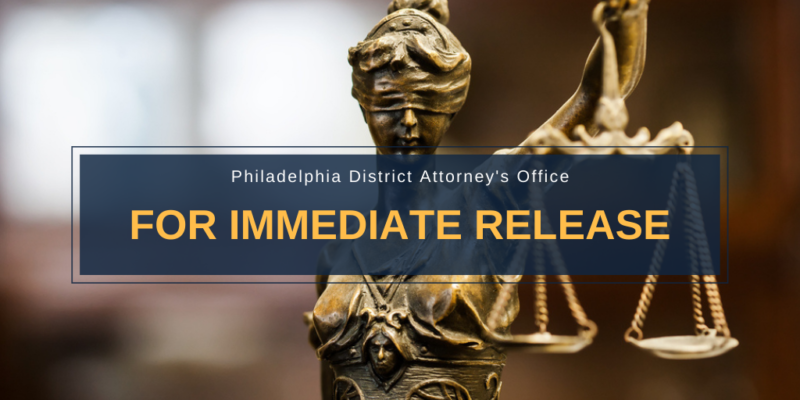 PHILADELPHIA (July 24, 2023) — District Attorney Larry Krasner, DAO First Assistant Carolyn Engel Temin, and Philadelphia District Attorney's Office Elder Justice Unit (EJU) members announced charges today against three defendants for financially exploiting and defrauding Philadelphia seniors. Michael Williams (DOB 3/15/1968) is currently facing over one dozen charges including Neglect of a Care Dependent Person, Theft By Deception, Burglary, Conspiracy, Tampering with Evidence, and Forgery, for conspiring with his paramour, Summer Rifenburg (DOB 6/7/1979), to steal the home of a senior victim suffering from dementia. Williams fraudulently opened an estate in the name of the victim's deceased father and transferred the house title by acting as the estate's executor. Williams' co-conspirator, Rifenburg, is also facing numerous similar charges. Thanks to the cooperation of the victim's family and neighbors and an investigation led by Philadephia Police Detective Ryan Howell, the EJU secured sufficient evidence to build a case and file charges against the defendants. Williams and Rifenburg were arrested on June 29 and a preliminary hearing is scheduled for July 31.
Josh Leyland (DOB 7/30/1996) is charged with Home Improvement Fraud, Theft by Deception, Conspiracy, and related offenses for his role in defrauding a 77-year-old man out of $140,000 in 2019. Leyland, part of a construction crew, convinced the victim that his home required expensive repairs and demanded up-front payment in the form of cashier's checks. The work crew completed practically none of the repairs. Leyland proceeded to use his passport to cash the cashier checks and then fled to the United Kingdom. After an extensive investigation led by Philadelphia Police Detective Patrick Cavalieri, the EJU in collaboration with the PPD, Federal Bureau of Investigation, Department of Justice, the U.S. Department of State, and the UK's Crown Prosecution Service, secured Leyland's extradition back to the United States to face justice for his crimes. He was arrested on June 3 and a preliminary hearing is currently scheduled for tomorrow, July 25. "Financial exploitation of seniors is a particularly insidious form of elder abuse because the victims are quite often some of our most vulnerable neighbors," said DA Krasner. "I'm very grateful to First Assistant Carolyn Temin for her commitment to this vulnerable population, and for prioritizing the needs of Philadelphia elders who have been preyed upon by unscrupulous defendants like Williams, Rifenburg, and Leyland. I'm also confident that the head of our EJU, Assistant District Attorney Alexander Blumenthal, will vigorously pursue justice for these victims and their community."
"I'm so proud of the work our office's Elder Justice Unit has done in pursuit of justice for some of our city's most vulnerable," said First Assistant Temin. "Elderly victims have special problems that younger victims don't have because as people age, they rely on others to assist them in day-to-day matters. Unfortunately, it is all too often those caregivers who abuse elders financially or physically. But thanks to the EJU and the collaborative work of the Philadelphia Elder Abuse Multidisciplinary Team (PEAMT), not only will these defendants be held accountable, but the victims — through the PEAMT — will receive the services and care that they require and deserve." "Elder abuse, particularly involving financial scams, is occurring at a rapid and alarming rate across the country. This form of predation afflicts 1 in 10 older Americans at a cost of over $36.5 billion per year. It's also a very serious crisis in the Commonwealth of Pennsylvania," said Sarina Issenberg, Coordinator of the Philadelphia Elder Abuse Multidisciplinary Team (PEAMDT). "Not only are older adults more likely to be the victims of certain crimes, but they are also less likely to report them. The Philadelphia District Attorney's Office is committed to protecting our city's most vulnerable residents, and the DAO's Elder Justice Unit is dedicated to pursuing justice by prosecuting individuals who commit fraud and other abuses, but more importantly, compassionately supporting and protecting victims throughout the process."
If you or someone you know suspects elder victimization or if you have questions about available services and resources for seniors, contact the Philadelphia Elder Abuse Multidisciplinary Team Hotline: 215-686-5710.
CONTACT:Dustin Slaughter, 215-686-8713, [email protected]
###
The Philadelphia District Attorney's Office is the largest prosecutor's office in Pennsylvania, and one of the largest in the nation. It serves the more than 1.5 million residents of the City and County of Philadelphia, employing 600 lawyers, detectives, and support staff. The District Attorney's Office is responsible for the prosecution of approximately 40,000 criminal cases annually. Learn more about the DAO by visiting PhillyDA.org.