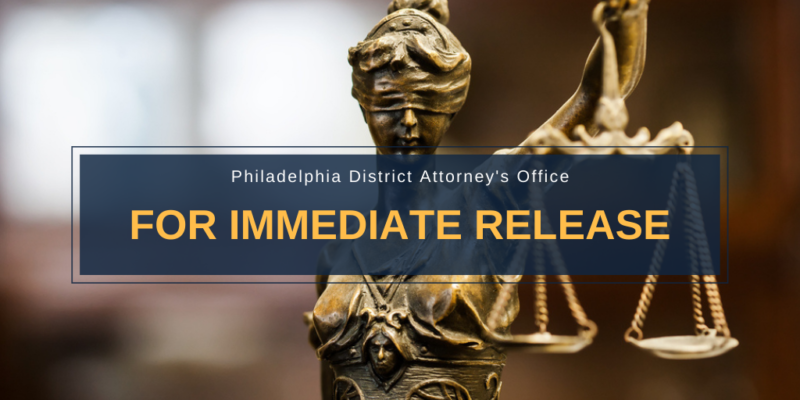 PHILADELPHIA (August 23, 2023) — District Attorney Larry Krasner and the Philadelphia District Attorney's Office Homicide and Non-Fatal Shootings Unit announced charges against Joseph Vannauker (DOB 4/19/04) for the hit-and-run killing of Gabriel Leon (DOB 2/22/86), an unhoused man, in the city's Kensington section this week. The fatal incident occurred in the early morning hours of August 22, 2023, on the 2400 block of Castor Avenue. Leon was walking southbound across the intersection of Castor and Aramingo Avenue when Vannauker, who was engaged in street racing with another vehicle, struck Leon with his blue 2020 Dodge Charger heading eastbound at approximately 75 miles per hour. The victim was pronounced dead at the scene. The vehicular homicide was witnessed by a Philadelphia police officer who was responding to reports of gunshots in the area. Another eyewitness provided dashcam video from their vehicle to law enforcement. The video depicted Vannauker's vehicle and another Dodge Charger revving engines and traveling at a high rate of speed shortly before the murder. Vannauker immediately fled the scene at a high rate of speed while ignoring traffic signals and crossed the Betsy Ross Bridge into New Jersey, but was taken into custody later that morning. He declined to speak to Philadelphia police and instead requested legal counsel. Vannauker, who remains in custody, is charged with Murder, Homicide by Vehicle (F3), Simple Assault (M2), Recklessly Endangering Another Person (M3), and related charges. The DAO sought and was granted one million dollars bail in this case.

Vannauker is also awaiting a preliminary hearing for another case stemming from his involvement in a previous street racing incident that occurred in October 2022. 

The DAO has contacted the decedent's next-of-kin to provide information on the case and to connect them to victim services.  "This defendant's reckless behavior and callous disregard for the lives of others presents a clear threat to public safety," said DA Krasner. "I'm grateful for the investigation conducted by Philadelphia police and our law enforcement partners in New Jersey. We have the necessary evidence to prosecute this case and pursue justice for Gabriel Leon, his loved ones, and the community. Mr. Vannauker will be held accountable for his terrible crimes."

CONTACT:Dustin Slaughter, 215-686-8713, [email protected]

###

The Philadelphia District Attorney's Office is the largest prosecutor's office in Pennsylvania, and one of the largest in the nation. It serves the more than 1.5 million residents of the City and County of Philadelphia, employing 600 lawyers, detectives, and support staff. The District Attorney's Office is responsible for the prosecution of approximately 40,000 criminal cases annually. Learn more about the DAO by visiting PhillyDA.org.