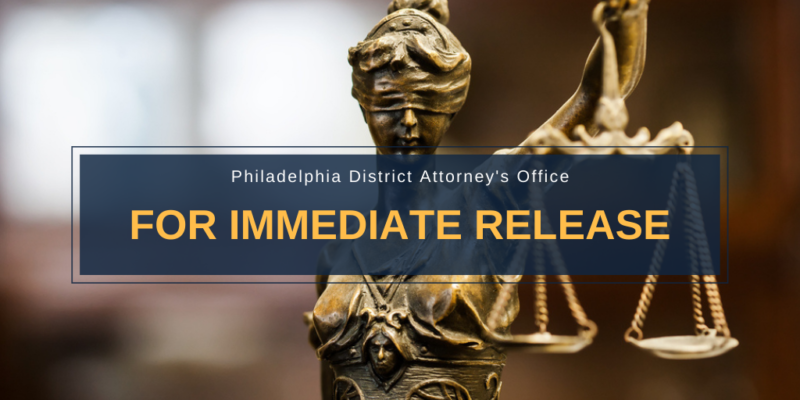 PHILADELPHIA (May 22, 2023) — District Attorney Larry Krasner joined community and non-profit partners on Monday to announce the findings of a comprehensive socio-economic report on the state of Philadelphia's juvenile justice system. The analysis, Philadelphia's Shifting Juvenile Justice Paradigm: An Economic Analysis, indicates that while spending on the system has continued to decline from fiscal years 2017 to 2021, the cost of support for system-involved youth has soared during the same time frame. The report also found that racial inequity continues to pervade our city's juvenile justice system. These key findings strongly suggest that while youth accused of lower-level offenses are coming into contact with the juvenile court system far less than in previous years, the juvenile justice system in its current state urgently requires improvements in order to meet the needs of our city's system-involved youth. The report also provides recommendations for both public and private sector juvenile justice stakeholders on what those improvements would look like and how to allocate taxpayer money to meet those goals. Crucially, the report found that taxpayer spending on this system has declined precipitously from $134 million in FY2017 to $99 million in FY2021, due to an increase in the number of youth being diverted from the juvenile court system for less serious offenses. During this time period, 46% fewer youth were served by the justice system. The number of youth connected to Juvenile Probation Office (JPO) services, for instance, has declined by almost 50%, from 3,640 youth in FY2017 to approximately 1,970 in FY2021. This decline in youth contact with (and spending on) the system is a result of a number of factors, including the sizable reduction in the use of residential placement facilities due to reforms implemented by DA Larry Krasner's administration upon taking office in 2018. Other factors contributing to the shrinking of the city's juvenile justice system include the closures of residential placement facilities in the wake of abuse scandals and the COVID-19 pandemic.
While juvenile justice spending continues to fall, however, it still far surpasses the money spent per youth by the School District of Philadelphia (SDP)—specifically, more than twice what the SDP spends annually. In FY2021, for example, the SDP spent over $30,000 per student compared to over $50,000 spent per system-involved youth. Also concerning, however, are the racial disparities that continue to persist within the system. The analysis found that in FY2019, for instance, 41% of youth aged 10-19 were Black but represented 81% of youth arrests. Additionally, the rising cost per system-involved youth per fiscal year continues to pose a problem despite the overall decrease in spending. According to the analysis, juvenile justice costs have soared by 36% from FY2017 to FY2021. Residential juvenile justice facilities are the leading drivers of youth justice costs. In FY2019, the cost per youth detained at the Philadelphia Juvenile Justice Services Center alone totaled over $220,000.
There is cause for optimism regarding the use of diversion for lower-level juvenile offenses, however. In FY2022, the Philadelphia District Attorney's Office diverted 22% of lower-level youth arrests from juvenile court. Working with a large portfolio of nonprofit partners and other stakeholders, youth are subsequently connected to job training, behavioral health resources, arts and athletic activities, and much more. Encouragingly, the analysis concluded that rearrest rates for youth whose cases are diverted are significantly lower. In FY2019, for example, just 27% of youth were rearrested after completing diversion compared to 53% who were not diverted. The analysis also determined that diversion only used approximately 0.6% of the juvenile justice budget. The cost benefit analysis of this alternative to the court system for lower level offenses is clearly evident.
Lastly, the report provides evidence-informed recommendations for improving outcomes for system-involved youth while spending taxpayer money more efficiently. Below are just a few:
The DAO should continue exploring safe and high-impact opportunities for diversion expansion for lower-level offenses;
Given the surplus funds that remain due to the significant decline in overall spending on Philadelphia's juvenile justice system, government and policy leaders should consider exploring increased investment in diversion for youth charged with lower-level crimes;
Reallocate money to more effectively fund resources for youth at the initial point of contact with the juvenile system in order to decrease recidivism;
Contract with and utilize mid-level private placement facilities, when appropriate, as an alternative to state placement and secure detention;
Government and policy leaders should require detailed explanations of rising city staffing costs in order to address the soaring costs associated with the system, despite historic declines in youth arrests and contacts with the court.
"My administration remains committed to helping shape a juvenile justice system that produces the best outcomes for everyone who come into contact with it," said DA Krasner. "This excellent report indicates that we must continue to partner with our juvenile justice stakeholders in order to reform a system that requires different policies to make it even better. I'm grateful to First Assistant Robert Listenbee, who has dedicated his life and career to positively changing the lives of at-risk youth, for all of the work he has done to implement this administration's juvenile reforms." "I don't believe that success should necessarily be measured by juvenile adjudications, but by how well the DAO and our system partners connect kids to needed resources and supports," said DAO First Assistant Robert Listenbee. "This powerful report shows us not only that the juvenile justice system is broken, but that we also have the means to improve it and, more importantly, create better outcomes for children who enter the system." "This report highlights a glaring need for increased transparency into the spending of public dollars on juvenile justice in Philadelphia," said Adam Serlin, Founder & Principal of Independent Variable LLC, who was instrumental in collating the justice data used for the report. "Importantly, we found that while traditional approaches to juvenile justice in the city appear to produce suboptimal outcomes, the key to improving our system cannot lie simply in the allocation of more money. Our analysis shows substantial unspent juvenile justice budget appropriations over the past half-decade, even while per-youth spending on juvenile justice has far exceeded that seen in other youth-serving systems. This suggests that a fundamental reimagining of our spending strategies may be in order, with a focus on more effectively meeting the needs of those we aim to serve while remaining more directly accountable to communities and the paying public." "'Return on investment' may seem like a wonky term, but we all think this way," said Lee Huang, President & Principle of Econsult Solutions, Inc. "Things that don't work, you stop doing them. Things that work, you keep doing them. Applying this lens to juvenile justice, it's time to stop doing what's expensive and yields bad results and lean into solutions that are both effective and cost effective."Philadelphia's Shifting Juvenile Justice Paradigm: An Economic Analysis was made possible by a generous grant from the Neubauer Family Foundation and was produced by EConsult Solutions, Inc. An executive summary of the report can be found here. The full version can be accessed here.
CONTACT:Dustin Slaughter, 215-686-8713, [email protected]
###
The Philadelphia District Attorney's Office is the largest prosecutor's office in Pennsylvania, and one of the largest in the nation. It serves the more than 1.5 million residents of the City and County of Philadelphia, employing 600 lawyers, detectives, and support staff. The District Attorney's Office is responsible for the prosecution of approximately 40,000 criminal cases annually. Learn more about the DAO by visiting PhillyDA.org.