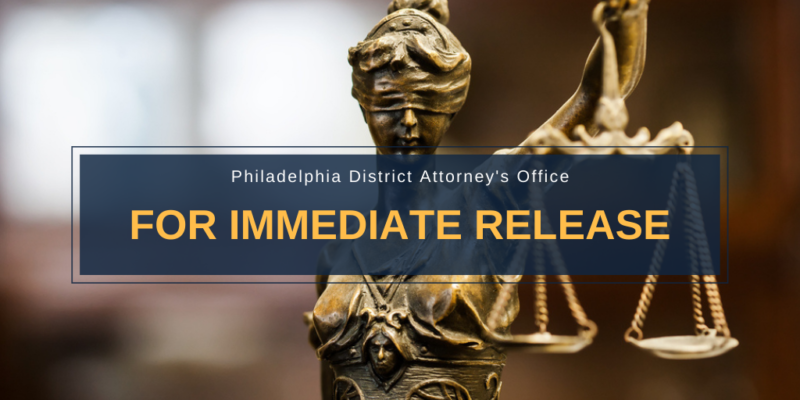 PHILADELPHIA (March 15, 2023) – District Attorney Larry Krasner and the DAO Homicide/Non-Fatal Shootings Unit on Wednesday announced that Charles Mitchell (DOB: 10/13/1982) is wanted by Philadelphia Police for the murder of Mar'Quis "MJ" Jackson on December 14, 2022. Upon his apprehension and arrest, Mitchell will be charged by the DA's Office with Murder, Abuse of Corpse, and Tampering with Evidence.
Members of Jackson's chosen and born family, along with the loved ones of other LGBTQ+ victims of violence, joined the DA's Office for its announcement at galaei, a Queer and Trans, Black, Indigenous, and People of Color (QTBIPOC) radical social justice organization based in Norris Square. Jackson's sister, Markiya, and other loved ones urged members of the public who have information that could lead to Mitchell's arrest and prosecution to contact Philadelphia Police.
At approximately 4:16 p.m. on December 14, 2022, Philadelphia Police responded to the 1800 block of Brunner Street and located a deceased Black male that was identified as Jackson, 33. Jackson's body was recovered face down in a back yard. The Medical Examiner's Office later ruled the manner of death homicide and reported that the victim had sustained multiple blunt force traumas to the head, along with scrapes, cuts, and bruises to the hands and legs.
Homicide investigators eventually identified Charles Mitchell as an individual likely to be responsible for Jackson's death, and charges of Murder, Abuse of Corpse, and Tampering with Evidence were approved by the DA's Homicide/NFS Unit.
Mitchell is a Black male, 6'03" tall, weighing 200 lbs. His last known address was on the 1800 block of Brunner Street.
"Our partners at the Philadelphia Police Homicide Unit work around the clock to identify and apprehend those who inflict grievous harm on our families and communities. If you have truthful information that could help police locate Charles Mitchell so that he can be held accountable for his alleged actions, please call 911 or the PPD tip line, 215-686-TIPS (8477)," DA Krasner said.
Family members of Shahere "Diamond" Jackson-McDonald, whose homicide was reported on November 24, 2022, also urged members of the public to contact PPD with information that could help identify the individuals responsible and bring them to justice. MJ Jackson and Diamond Jackson-McDonald (no relation) were among at least 37 trans and gender non-conforming people killed in fatal violence in the United States in 2022, according to the Human Rights Campaign. At least five trans and gender non-conforming people were reported killed last year in Pennsylvania, which offers no statutory protection for LGBTQ+ persons against housing, employment, and other discrimination.
The Philadelphia DA's Office is regarded as the only prosecutors office in the country that employs a civilian LGBTQ+ Liaison who works with criminal justice partners to ensure that queer and trans victims and witnesses to crime, as well as defendants, receive appropriate, affirming treatment and services throughout the criminal legal system. The DA's LGBTQ+ Advisory Committee, which comprises civilian members of the queer and trans community, works to ensure that all criminal justice partners, including the DAO, work toward the goal of equal, respectful, measured treatment of all system-involved individuals.
Also joining the families of Jackson and Jackson-McDonald was the family of Tracy "Mia" Green. The DA's Homicide/NFS Unit secured the conviction of a defendant responsible for her murder in 2020; the defendant was sentenced to 17.5-35 years of incarceration by the Hon. Diana L. Anhalt.
"The DA's Office, Police Department, and our partners in the criminal legal system continue to work with the LGBTQ+ community to ensure that everyone – including historically marginalized and vulnerable people – has equal access to justice and safety in Philadelphia," DA Krasner said. "Everyone who is here today – bereaved families, survivors, activists, and allies – is here because these terrible losses of life are happening in a larger political context of relentless lies attacking trans children, trans adults, and drag queens. These attacks on queer and trans people are attacks on every one of us. Your safety and well-being is entwined with my safety and well-being. This is the definition of community, and we must have respect and dignity for all people in order to have safety, justice, and peace in our communities."
Joining the LGBTQ+ victims' families and DA Krasner at galaei were: ADA Joanne Pescatore, Supervisor, Homicide/NFS Unit; ADA Helen Park, Supervisor, Carjacking Enforcement Unit; ADA Brian Kean, Major Trials Unit; Rev. Myra Maxwell, Executive Director, DAO Victim Support Services Division; Melany Nelson, Director, DAO Crisis Assistance, Response, and Engagement for Survivors (CARES) Unit; DAO LGBTQ+ Liaison Kelly Burkhardt; Kendall Stephens, survivor & member of DAO LBGTQ+ Advisory Committee; Natasha Danielá de Lima McGlynn, Executive Director, Anti-Violence Partnership of Philadelphia; and Celena Morrison, Executive Director, Office of LGBT Affairs.
CONTACT:Jane Roh, 215-686-8711, [email protected]
###
The Philadelphia District Attorney's Office is the largest prosecutor's office in Pennsylvania, and one of the largest in the nation. It serves the more than 1.5 million residents of the City and County of Philadelphia, employing 600 lawyers, detectives, and support staff. The District Attorney's Office is responsible for the prosecution of approximately 40,000 criminal cases annually. Learn more about the DAO by visiting PhillyDA.org.